Thomian Milan Fernando takes early lead
Bata-The Sunday Times Most Popular Schoolboy Cricketer of the Year Contests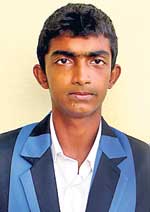 Milan Fernando
Thomian leg spinner Milan Fernando, who is the leading wicket taker with over a century of wickets behind him for the current schools' cricket season has come on top at the end of the first count of the Bata-The Sunday Times Most Popular Schoolboy Cricketer of the year (All island) Contest.
Milan who went into their traditional 'big one' against Royal on Thursday with a tally of 103 wickets hauled 115 votes at the end of the first count. Hot on Milan's trail is Nalandian Ashan Priyanjana who led the Sri Lankan teenagers to the just concluded under 19 World Cup in Malaysia. Priyanjana is sitting just thirty votes behind Fernando with 85 votes to his credit.
In the third place is Chirantha de Silva from Isipathana with 42 votes.
Besides the ten contestants mentioned in the All Island list the following cricketers have also been voted for. They are: B. Ekanayake (Dharmarajah), Varuna Fernando (St. Benedict's), Kaushal Perera (Royal), Chandimal Ratnayake (Dharmarajah) and Chanaka Madhusanka (St. Benedict's).
In the Outstation Most Popular Schoolboy Cricketer of the Year Contest Thilina Athureliya of Dharmapala Vidyalaya, Pannipitiya has taken an early lead and has 70 votes in his account. Athureliya's closest rival in this contest is Sylvestrian Mohammed Feshal who has counted 51 votes.
In the International Schools' Competition the gates have only opened for two lads from Gateway International Nawala, Koswatte. Here Malith Silva heads with 55 votes while his team-mate Aadhil Niyaz is a close second with 30 votes to his credit.