Selection puzzle
Suddenly the bubble seems to have burst with team selections for the ODI's against the West Indies. The tour of Australia has caused concerns and some action has been taken or certainly that seems to be the case. Two of the mainstays of recent years Sanath Jayasuriya and Muttiah Muralitharan will not don the Sri Lankan coloured clothing in the West Indies.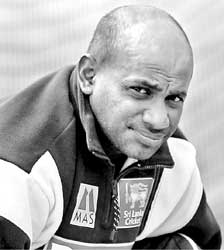 End of the road for the living legend?
Every great player has to face the reality that someday, his playing days will come to an end. Most players, particularly those from the sub continent persevere to extend their careers to the maximum. That is their choice. It is up to those who select and coach to have a systematic manner of introducing younger up and coming players and make the transition a happy and acceptable process.
In recent times two players have departed with much bitterness. Upul Chandana and former national captain Marvan Atapattu were both unhappy when they went. Both are now playing for the outlawed Indian Cricketers League. It's sad, particularly in the case of Atapattu whose contribution to the games has been immeasurable. Chandana too was around for a long period of time and served with dedication. Often this bitterness against authorities and the governing regime will exist for a very long, long time. It can never be eradicated completely, but must be reduced to a minimum. The one way is to have a dialog between players and selectors, be open with views, so that both parties come to a win-win agreement. Lack of communication has been the cause of many an unpleasant ending of playing careers.
Sanath Jayasuriya has lived on playing cricket. He has focused all his energies on absorbing and learning of all aspects of the game. His growing up days did not have the glamour, the prominence, the money and the entire professional manner in which the game is now conducted. He ventured into the unknown, from small beginnings in Matara, to become a legend in the game in every part of the cricketing world.
He has to part company from the game in the not too distant future. It will be a sad day. His intentions are clear, in that he wants to squeeze out every drop of his playing career. Now contracted to play Twenty20 cricket at county level and in the Indian Premier League he would still like to compete in limited over cricket. It must be said that the match winning and the ability to set-up a match winning situation for his team, has diminished but, still he is able to produce a brilliant innings.
The problem the selectors have is in replacements. It's all well and good to talk of bringing in young players, but they have to be good to go out and perform. Good examples are Upul Tharanga and Chamara Silva. Both have displayed ability to get runs, but only on certain pitch conditions. That does not make them complete. Both are being persisted with the hope that they will come good. This is a big chance for them to cement their places in the team.
Newcomers into the squad are Kaushalya Weeraratne, Jehan Mubarak and Ajantha Mendis. Weeraratne and Mubarak have been there before and get another opportunity while Mendis has been plucked out of domestic cricket.
Kaushalya Weeraratne got his break just out of school cricket and did impress. However, injury and loss of form pushed him into the wilderness. He has been performing in the shorter version of the games, including being a member of the Hong Kong sixes squad, which won the tournament. Now, more experienced, physically and mentally stronger, this is a big break for him. He must not let the chance go waste.
Jehan Mubarak gets yet another chance. He has been tried and tested. A player with a lot of talent and although still young has been around for about six years. He could consider himself lucky to get in again. He has to string together consistent performances now. It could well be the last opportunity.
Ajantha Mendis of the Sri Lanka Army has bowled himself into the reckoning. He plays two day club cricket where his medium pace/spin has encountered problems for many a batsman. The unorthodox variations he delivers even had some of the top batsmen in trouble in the recently concluded Provincial one day tournament. He has gained a place with the thinking of using Muttiah Muralitharan sparingly from now on. Time will tell how he will fare at this level.
Still the selections are puzzling. Are these replacements the correct choice for the long term? What of players like Ishara Amarasinghe and Nuwan Kulasekera? Will Mahela Udawatte and Upul Tharanga be able to carry on the batting responsibilities? What of two years from now? This West Indies tour is crucial in providing answers to those questions.
* Ranil Abeynaike is a former Sri Lanka cricketer and curator of SSC