The dying walk
The number of participants in the annual Kataragama Pada Yatra maybe swelling, but the spiritual significance of the walk is fast disappearing.....
Among Sri Lanka's ancient traditions that yet survive, few are as well known or as poorly understood as that of the Kataragama Pada Yatra. Predating the arrival of all four of Sri Lanka's major religions, the tradition is an inheritance from the Wanniya-laeto or Veddahs, as Kataragama's kapurala priest-custodians themselves readily concede.
Traditional foot-pilgrimage or Pada Yatra is not, as many believe, a peace march, but part and parcel of an annual re-enactment of the Kataragama legend. The participants are simple, ordinary folk who say they have received a 'call'.
Paradox
Bearing a bundle of essentials only, they live the homeless life of a beggar or religious recluse. Deep lessons about the paradoxes of life are driven into them in a sustained act of self-denial.
Until 1950 when a motorable road was extended up to Kataragama from Tissamaharama, pilgrims could reach Kataragama only on foot or by bullock cart. Now Kataragama is easily reached by vehicle, but for centuries uncounted, pilgrims arrived on foot from all over the island and from India and even occasionally from Central Asia.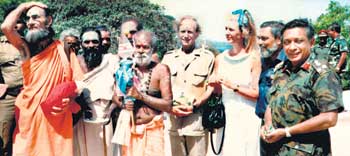 Flashback to 1988 - reinstatement of Pada Yatra with the co-operation of the Ministry of Defence: From right: The late General Denzil Kobbekaduwe, Admiral Clancy Fernando, British High Commissioner David Gladstone and his wife April and Kataragama swamis including Swami Sivakalki (Mike Wilson)
Winding down the east coast from one sacred site to another, foot pilgrims endure scorching sun, rain, hunger, thirst, and encounters with disease and wild animals. Sleeping and resting under trees and in shrines and temples, and keeping the company of like-minded devotees only, to this day traditional pilgrims undergo personal experiences that alter their outlook on life.
Because of the sheer length of the Kataragama Pada Yatra, from antiquity the pilgrims tended to be swamis and bawas, i.e. full-time religious enthusiasts. Most remain anonymous, but among them have been great saints, sages and siddhas. Modern well-known pilgrims have included Palkudi Bawa and Yogaswami of Nallur.
As late as the 1970's (including 1972 when I first walked) the ranks of pilgrims walking exceeded 1,500 devotees from Jaffna District alone. Communities along pada yatra routes would anticipate our arrival, and whole villages would turn out to fete us with food and entertainment offered to God Skanda and to us, his servants, such that every village along the way resounded with the 'hallelujah chorus' of Kataragama devotees: Harô-Hara!
Danger
The 'Black July' riots of 1983 brought Pada Yatra to an abrupt halt with violence directed against Tamil pilgrims. Thereafter for years they considered it unwise to walk through Sinhala areas; nor could they walk through the Wanni region. There was no Pada Yatra again until 1988 when the Kataragama Devotees Trust was established to protect and preserve Kataragama's endangered traditions. The non-political character of the Trust and the Pada Yatra has earned them the recognition and respect of Sri Lankans of all communities. In all the years of conflict and bloodshed, not once has there been an untoward incident associated with Pada Yatra pilgrims.
In 1988 a mere 60 pilgrims dared to walk; in later years the figure would swell to the tens of thousands. In 2004, for instance, Wildlife Department officials counted over 30,000 foot pilgrims entering Yala en route to Kataragama.
Decline
The ballooning figures, however, mask fundamental problems that threaten Kataragama's traditions. The Pada Yatra's explosive growth in popularity in recent years has been mirrored by a steady decline, and indeed disappearance, of veteran swamis, those who preserve the songs and legends and traditions that express Kataragama's age old wisdom.
As recently as 15 years ago, there were still poets, minstrels, musicians, dancers, clowns, and ecstatics in pilgrim's garb, spread like a leaven among the barefoot parties, often separated from each other and appearing to walk alone across the awe-inspiring landscapes of Sri Lanka.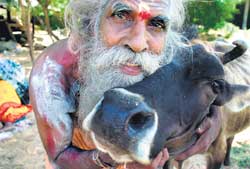 There are fewer swamis and sadhus now joining the pilgrimage
Now the old swamis have either passed away or no longer walk. Fewer and fewer pilgrims sing as they walk; fewer still have any wisdom to share; and few go barefoot any longer.
These had been the very pilgrims over whom villages once vied with each other to fete with food and hospitality.
Today, the swamis have been replaced by whole families with children who walk in silence, clad in 'Bata' sandals and wearing outlandish garments from the marketplace.
Villagers may offer dana to them but once, and then hasten them on their way. Most do not even walk unless compelled, but ride the distance by vehicle up to Okanda or even into the national park itself unless prevented from doing so by park officials.
Baila
A yet more recent innovation has been Pada Yatra youth societies and NGOs with their considerable resources, including tractors, luxury vehicles, tents, electrical generators, and all the accruements of excess wealth. Society members and employees march single-file dressed in uniform-like attire, except that each wears fashionable footgear or headwear of his or her fancy. Little or no bhakti can be seen in these crowds.
Ostensibly fielded as 'service brigades' to help the elderly pilgrims, in practice the youths seldom have among them one who will lead or direct them to serve anyone except themselves. At night they prefer to sing not wisdom songs, but baila music accompanied by drums and transistor radios.
What many pilgrims, including this one, find most dismaying is the uneven treatment accorded to foot pilgrims as they emerge from the jungle and encounter security check points.
There the poor and elderly pilgrims are ordered to stand under the hot sun, and wait while younger uniformed members of well-heeled NGOs and other societies are politely whisked through with only minimal delay. Last year I sat with the poor pilgrims for hours at a stretch witnessing this mockery of Pada Yatra.
The decline of the Pada Yatra did not occur in a social vacuum, but in the context of a national decline affecting Kataragama and every village and town across this island, as reflected in the general pell-mell scramble to seize land, loot and power at the expense of one's neighbours and generations yet to come.
There have been periods in history when Kataragama and its traditions have sunk from view, only to reappear decades later. Are we entering one such dark period now?
Do not enter Yala, devotees warned
The Kataragama Devotees Trust, the body of devotees involved in observing and preserving Kataragama's traditions has urged devotees of all communities to refrain from walking to Kataragama through the Yala sanctuary this year.
In a press release issued earlier this week, the Trust said: "In view of the deadly incidents occurring in recent months across Uva Province and the certitude that armed insurgents are planning further attacks, we strongly advise all individuals and societies to cancel any and all plans to enter jungle areas where insurgents may be planting land mines and where security forces and insurgents will be engaged in armed conflict for the foreseeable future.
"Since 1988 the Kataragama Devotees Trust has annually conducted the Pada Yatra. We know its difficulties and its dangers. This year we encourage devotees to walk as far as Okanda Murugan Devale only, and there enjoy the Okanda festival, or else proceed by vehicle to Kataragama on roads deemed safe by the authorities.
"Devotees should not in any way complicate the task of security forces by attempting to enter Yala National Park at a time when security operations are in progress, nor should they tempt fate or invite death or injury by encouraging others to enter the jungle or by entering it themselves.
"Organizers in particular are urged to take prudent and timely decisions to protect the safety and well being of their society members. Individuals should frame their vows this year in terms that do not necessitate crossing jungle areas on foot. "There have been other years when the Pada Yatra was suspended for security reasons. The opportunity to walk safely will come again. But this year we urge all to avoid the jungle routes. Allow forest, animals, and humans to recover their balance so that the pristine tradition may return and flourish in Sri Lanka for centuries to come.