Right Royal misadventure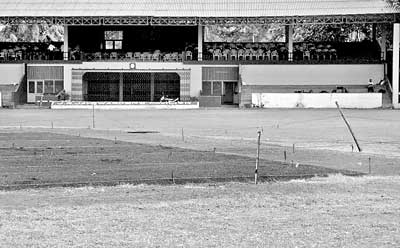 Royal ground in dilapidated state Pic by Saman Kariyawasam
There is a certain buzz around Reid Avenue about the plight that the Royal College, cricketers had to undergo this year. All Royal College pitches are dug up and during the major part of the season all college practices and even matches had to be played at away venues.
The reason for this is the want of clay to re-surface the pitches.
However the non availability of the home grounds have not gone down well with a segment of the past cricketers. He who did not want to be identified lamented "Most of them who are in the cricketers' wing are top rung personnel who are engaged in expediting very important tasks in their daily routines. But, how did they fail to foresee this drawback. Couldn't they just ascertain that they may come across an obstacle of this nature? This boils down to just poor planning".
Explaining their stance on the issue the head of the re-development project Vijaya Malalasekera explained – "This wicket has not been relayed for the past 22-24 years and we reckoned the time was ripe to do so. Yes, we can read pitches, but we are not competent in the job of relaying wickets. For that we entrusted the job to Mr. Anuruddha Polonowita who is the national curator and the father of a former Royal Cricket captain. However halfway through the project we discovered that the available clay was not good enough for the relaying work, as a result of the incessant rains that Sri Lanka experienced last year. We now have got the necessary clay that will suit the relaying and we hope to finish the task before the end of May this year."
Mr. Polonowita who is in Australia at present was not available for comment.