Show goes on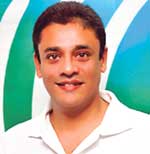 Ranjan Madugalle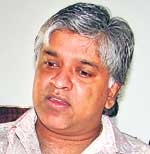 Arjuna Ranatunga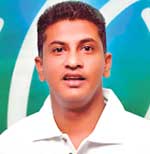 Roshan Mahanama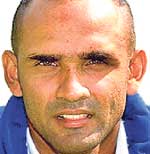 Marvan Atapattu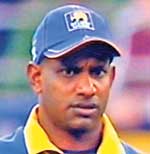 Sanath Jayasuriya
Traditions are corner stones of any given society. Then traditions are born within such societies getting accustomed to certain patterns or happenings through a given period of time. Bata Shoe Company, with 29 years of experience behind it in the noble cause of nurturing and harnessing future cricket stars of Sri Lanka, has joined hands with The Sunday Times to march forward with the tradition of the "Bata-Sunday Times Schoolboy Cricketer of the Year show" from this year onwards.
Through the years this show has brought to limelight a galaxy of stars, including the likes of Ranjan Madugalle, Arjuna Ranatunga, Roshan Mahanama, Marvan Atapattu and Sanath Jayasuriya. This effort will continue with the show being a feeding point to the national grid.
Starting from this year, the competition will be run in three segments. As usual it will be the main section of Schoolboy Cricketer of the Year and the Outstation Schoolboy Cricketer of the Year segment along with the Most Popular segments of both competitions. Besides, the organisers have also decided to recognise the talents of those cricketers who emerge from international schools. The international school category will also have the same two segments as above. All in all, there will be 142 proud Schoolboy Cricketers at the end of this competition
The coupons for the Most Popular Contests will be published in The Sunday Times and on weekends while Daily Lankadeepa and the Daily Mirror will also carry the coupons from this Wednesday. The coupon will also be published in the Sinhalese Weekly "Tharunaya" on Thursdays.
The voting readers will also be in the way of luck, as Bata Shoe Company will come out with three vouchers to the value of Rs 1500/-, Rs 1000/- and Rs 750/- for three lucky winners every week.
The show is scheduled to be held in August this year.
Categories of Award Selection
1.All Island Awards
- Best Fielder
- Best Bowler
- Best Batsman
- Best All Rounder
2. All Island Award for Runner up
- Fielder
- Bowler
- Batsman
- All Rounder
3. Outstation Awards for
- Best Fielder
- Best Bowler
- Best Batsman
- Best All Rounder
4. Outstation Awards for Runner up
- Fielder
- Bowler
- Batsman
- All Rounder
Team awards
5 Best Team Southern Province
6 Best Team Southern Province- Runner up
7 Best Team Central Province
8 Best Team Central Province- Runner up
9 Best Team All Island
10 Best Team All Island – Runner up
11 Best up and coming Team –All Island
Individual awards
12 Best Captain All Island
13 Promising Player- Western Province
14 Promising Player- Southern Province
15 Promising Player- Central Province
16 Promising Player- North Western Province
17 Promising Player- Sabaragamuwa Province
18 Promising Player- Eastern Province
19 Promising Player- Northern Province
20 Promising Player- North Central Province
21 Promising Player- Uva Province
22 Most Popular Cricketer Outstation
23 Most Popular Cricketer Outstation - Runner up
24 Most Popular Cricketer of the Year
25 Most Popular Cricketer of the Year- Runner up
26 Schoolboy Cricketer of the Year Outstation- Runner up
27 Schoolboy Cricketer of the Year Outstation
28 Schoolboy Cricketer of the Year All Island- Runner up
29 Schoolboy Cricketer of the Year All Island.
International Schools
30 International Schoolboy Cricketer of the year
31 Most Popular International Schoolboy Cricketer of the Year