A majestic creation to honour an equally majestic elephant
Walk into the museum of Colombo's Gangaramaya temple and you will see an 11-foot sculpture of Ruwan Raja, the much loved elephant of the temple which carried the relic casket at several peraheras in the country. The majestic sculpture captures the grandeur of the subject and demonstrates the skill, capability and potential of the artist.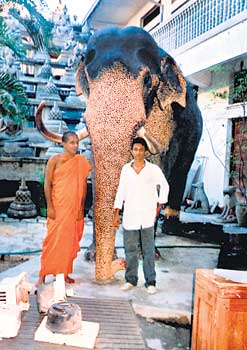 The young artist stands besides his masterpiece
"It was a big challenge," says the young artist, 19-year-old Kasun Wickramasinghe. "That was the first time I made such a big sculpture. It was a lot of work, but looking back it was a rewarding experience." From his younger days Kasun had been interested in elephants, be it painting, carving images or just watching them. He also loved art and many a time constructed pandals during Vesak. "I used to make small elephant sculptures with cement and wood and it was only after seeing these that I was invited to make this life-size sculpture," Kasun said.
Ruwan Raja, who died in 2003 had carried the relic casket at the Gangarama, Kelaniya, Bellanwila and Kataragama Peraheras over the years. Kasun's sculpture utilised the skull and the tusks of the elephant. The structure was made using iron rods and placed on a concrete platform. "After the basic structure was made, I covered it with cement and painted it, to make it look life-like," he said.
"It was hard. I had never mixed cement before and I had to capture the proper image and make it real. I got a lot of help from my friends and I am very thankful to them," Kasun said, adding that he sat his Advanced Level examination just a month after he completed the sculpture. "I spent nine months on the sculpture."
Kasun began his schooling at Nalanda College, but later joined Ananda College for his A'Ls. Having passed his A'Ls in Sinhala, History and Art, he now hopes to continue his studies in art and sculpture in either India or Japan.
Ven. Gonandeniye Seevali Thera of the Gangaramaya temple said that Kasun was invited by the chief incumbent of Gangaramaya, Ven. Galaboda Gnanissara Thera to create the sculpture upon seeing his previous works. "Podi Hamuduruwo having spotted Kasun admiring the elephants, had inquired what he was doing and was astonished to hear that the boy was carving elephant images," Ven. Seevali Thera said, adding that Kasun was told to bring his work to the temple and these were also shown to the Chief Priest.
"We were all pleased with the sculpture. Kasun is very talented. The elephant lived for around 45 years and served the temple well and this is probably the best way to repay and remember its service. It's a mark of gratitude and it is definitely something for the future generation to see," the Thera said.