Tina Modotti: A life as striking as her visuals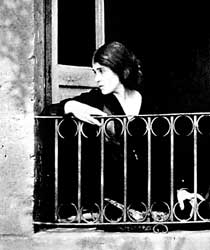 Tina Modotti
A visual presentation of the life and photographs of an extraordinary Italian photographer Tina Modotti, (1896-1942) will be held on Friday, March 8 at. 6.30 p.m. at the Goethe Institute (German Cultural Institute). The event is organised by the Sri Lanka -Italy Friendship Society in collaboration with the Goethe Institute and the Italian Embassy in Colombo.
The presentation will be by photographer Menika van der Poorten. Tina Modotti was a seminal photographer whose life was more colourful and fascinating than one any scriptwriter could have dreamt of. Attracted by the renaissance of arts, culture and politics in post revolutionary Mexico, Modotti moved to Mexico with photographer Edward Weston where she rapidly became a photographer of repute. Strikingly beautiful and unconventional, she was a contemporary and friend of artists Diego Rivera, Frida Khalo and Siqueiros.
As a photographer who responded to the upheavals going on around her she agonized over the conflict between life and Art. Following a period of political activism in Stalinist Moscow, pre-war France and the Spanish civil war she returned to Mexico where she died in 1942 under mysterious circumstances.