Celebrating 25 years of dancing
An array of brightly coloured costumes lay on the chairs, the tables as a group of girls, absorbed in their work, added the final touches to them before their upcoming concert on March 8 and 9 at the Lionel Wendt.
They are the senior students of the Visha School of Dance, run by Visha Manohari De Silva who trained under the legendary Vajira and Chitrasena. A student of Vishaka Vidyalaya, she had her grounding in visual arts at the Institute of Aesthetic Studies, University of Kelaniya, where she graduated with a BFA. As a member of the Chitrasena- Vajira dance troupe, she danced in many ballets such as Karadiya, Nala Damayanthi, Shira Ranga, Kinkinikolama and Chandalika. The revival of the Tower Hall Theatre foundation in 1978 saw her participating in plays like Siri Sangabo, Sri Wickrama, Samudra Devi etc.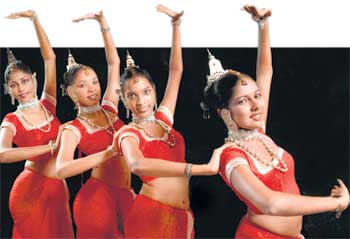 She was also selected to perform at the dance concert held in honour of pundit Ravi Shankar when he toured Sri Lanka. The Visha School celebrates 25 years of dance this year. "I have always said that my first love was dancing, but my love for dancing also has a deeper meaning; I do it as a form of meditation, a pooja," says Visha recalling the beginnings of the school that some of her students have grown up in.
Begun with a mere five students, the school now has 300 young girls and boys, ranging from the ages of three to 23. They have performed at a host of dance festivals in India, Denmark, Thailand, Malaysia, Maldives, Taiwan, Korea, Switzerland, Hungary and Japan.
"I owe everything I know to my teachers and mentors. I not only fulfilled my dream of dancing with them, but I learnt so many other things from choreography to make up and lighting," said Visha. Thriveni is the latest in a string of concerts and performances both here and abroad.
The first half of the show will feature the juniors, coming together in a series of folk dances and traditional favourites such as Dhanno Buddhunge. The seniors will take the stage during the second half, with traditional, Arabian and fusion dances. There will also be a dance with yoga elements, choreographed by Visha's daughter, Vindya De Silva.
Tickets for Thriveni, priced at Rs. 1000, 750, 500 and 300, are now available at the Lionel Wendt.