Cruel treatment for cancer patients?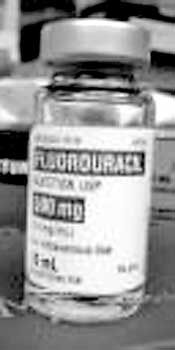 The drug imported by the health authorities
Due to the shortage of the Fluorouracil (5-FU) drug in the Cancer Hospital at Maharagama, patients are left with only one choice of drug, but its use is rejected by hospital staff on the grounds that it is a low quality product.
Fluorouracil (5-FU) is a chemotherapy drug that is most commonly used in the treatment for some types of cancer, including bowel, breast, stomach, and gullet cancer. A consultant at the Cancer Hospital said the drug available outside is in an ampoule (glass capsule) which has to be cut to get the liquid for an injection.
This highly acidic drug had splashed at times when the ampoule was cut and so nurses clearly refuse to use this drug, he said. "This drug has not been available in the hospital for more than a month, so we have been requesting the patients to get it from outside.
Usually this drug comes in a container with a rubber top which could be removed and the medicine taken out and then kept in a freezer. The drug which comes in a glass container has to be used by breaking the glass top," he said. The refusal by the hospital staff to accept the drug - an Indian product - the patients buy from outside has left these patients helpless.