Toll on private vehicles entering city
Wide-ranging plan to reduce pollution and traffic jams
Some 200,000 private vehicles enter the city daily causing heavy air pollution and traffic congestion—and plans to encourage these private vehicle owners to use public transport will be ready within the next three months, an official said yesterday. National Transport Commission Chairman Amal S. Kumarage told The Sunday Times the plans would include the imposition of a toll on private vehicles and the improvement of the public transport service.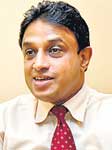 Prof. Kumarage
"Electronic road pricing for private vehicles will be one of the most effective ways of discouraging private vehicles from entering the city during day-time. If the toll is high during daytime and less at night, day-time traffic congestion could be reduced significantly," he said.
Prof. Kumarage said that prior to charging a toll on private vehicles entering the city, alternatives would be introduced this year under the Strategic Action Plan for Traffic Management. Imposition of the toll would come into effect at the end of next year after alternative arrangements for those entering the city in private vehicles were fully put into effect, he said.
According to him, the alternative plans include a transport service for private vehicle users entering the city. In terms of this, vehicles, which enter the city, will be parked in a terminal and buses will operate from that point. Dematagoda, Battaramulla and Ratmalana are some of the areas already identified to build bus terminals. Parking spots would be situated close to railway stations and the proposed major bus terminals.
Other measures include:
A well-designed bus lane in the new one-way system.

Encourage the movement of heavy goods vehicles during night times and outside peak times

Premium bus services in Colombo and suburbs

To develop the Bastian Mawatha Bus Terminal for long-distance passengers

Operation of at least two new Multi Modal Terminals and to begin park-and-ride services

Reorganize urban bus routes (to reduce overlapping routes and to reduce the number of buses terminating within the city centre)
On Monday, the Supreme Court directed the National Transport Commission to implement Strategic Action Plan for Traffic Management within three months and report the progress of initial implementation on June 23.
The court gave this directive after considering a petition in regard to the air pollution in the city. The court told the Transport Ministry, the Urban development Ministry, the Central Environmental Authority, the National Transport Commission and Police to come up with a suitable plan.
More than 225,000 vehicles enter the city on an average working day, carrying 830,000 people. Of the total, around 80,000 commuters use trains. Most of the vehicles entering the city – about 200,00 -- are private vehicles, but they carry only 32 percent of the passengers. The number of buses entering the city is around 10,000 but they carry 68 percent of commuters.
"Private vehicles which carry only 30 percent occupies 80 percent of the road space, causing traffic jam The main objective is to get people out from cars, vans and trishaws and get them attracted to modified public transport and by that reduce private transport. We are in the process of implementing means and ways to reduce the dependency on private vehicles," Prof. Kumarage said. According to him, cost of Congestion is around Rs. 40 billion and fuel cost is around Rs. 150 billion annually.
"At present even if fuel is doubled in price, people have to continue travelling in their private vehicles as they have no proper alternatives. They would not comply with these alternatives if there is no cost advantages and conveniences," he said. "A person travelling in his car would definitely expect what he would enjoy the comforts in his car. Either to read a paper, listen to music and fully air-conditioned and other conveniences. He would not want to stand or come to work in a normal bus transport. So a premium transport service should be provided," he said.
He said operators should give more thinking on providing 'qualitative distinct service's people mostly use private vehicles in Sri Lanka is because of the of convenience and privacy.
"This is a very sensitive side of transport to handle; the operators should be geared for that as more than the cost it's the quality what is expected" he said adding that many developed countries don't see that best quality public transport is being used even by car owners.
Discussions are being held by the National Transport Commission with trade chambers and the Ministry of Public Administration regarding introducing staggered working hours. Prof. Kumarage said that since 1970s there has not been proper school bus system and the NTC was hoping to re-introduce it. "It would cost only 50 percent less from the normal bus charge. At present there are 330 school bus services. We are hoping to introduce another 200 buses."
Fact file
Number of vehicles entering the city on a working day: 225,000
Private vehicles entering the Colombo city on a working day: 200,000
Buses entering the Colombo city on a working day: 10,000
Total number of passengers entering: 830,000
Percentage of people using private vehicles: 32%
Percentage of people using public transport (buses+ railway): 68%
Percentage of road space consumed by private vehicles: 80%
Percentage of road space consumed by buses: 20%
Annual congestion cost: Rs. 40 billion
Annual fuel cost: Rs. 150 billion