Young monk's school looks for benefactors
A night school which had a small beginning with only nine students now has 282 students on its roll. The school was run by a monk undergrad who taught Sinhala when he came home on holiday from the university. The monk received permission from the chief incumbent of the local temple to conduct classes on a regular basis after he graduated. He enrolled a teaching staff of 13 who had completed their A Levels and today the number attending classes stand at 282.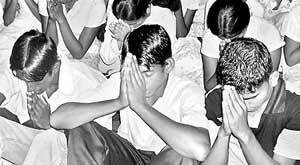 Students chanting pirith after classes end
The children who attend the classes are very poor and come from villages like Kotawera Udagama, Pahalagama Udaperuwa, Weliulla, Imbulgashinna and Indigahadowa. The classes, which are free, start late in the evening and end at 9 p.m. after pirith chanting by the monk. The good monk who dedicated his time and energy to teach these poor children is Ven. Kotapola Kasyapa Thera.
Only 28, the monk resides at Vidurupola in Keppitipola. His father was a postal worker. At 10 the boy donned the saffron robe. After his pirivena education at Sri Piyatissa Pirivena he entered the Kelaniya University and graduated with a special class degree in Archaeology.
In the 2006/2007 academic year 19 students at the monk's school passed the A/Level exam with eight qualifying to enter the university. He lamented that even with such results there was scope for improvement in this school.
The monk said he spends all his earnings as a government teacher for the upkeep of his school in which classrooms are congested and where desks and chairs are badly needed.
This mini school is situated in the temple premises, about three kilometres away from the Welimada main bus stand. The dedicated monk needs help from philanthropists to improve the lot of this private school. His contact telephone number is 071 5177848.