Irreverent use of Buddhist symbols
The Sri Lankan mission in Brasilia is still awaiting information from its Consul General in Rio de Janeiro in Brazil over images of the Lord Buddha being used in an irreverent manner at the Rio Carnival. The Sunday Times learns a float of Lord Buddha was carried as part of the parade at the recently concluded Rio Carnival in Rio de Janeiro.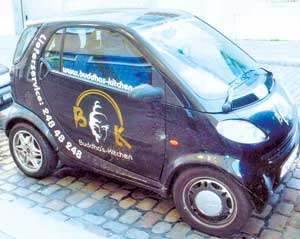 The head of Lord Buddha depicted on hotel vehicles
A statue of a gold-painted Lord Buddha in meditation position, surrounded with lanterns, also painted in gold, artificial flowers and a pot was paraded along the streets of Rio as part of one of the biggest carnivals in the world. Attended by over 500,000 foreigners every year, the Rio carnival is a wild 4-day celebration held 40 days before Easter at the beginning of the Lentan period as an act of farewell to the pleasures of the flesh. Considered a major artistic event in the world, it includes events and aspects of Brazilian culture such as a Samba parade. A Foreign Ministry spokesperson said that the issue had been referred to the Sri Lankan Mission based in Brasilia and they were waiting a response.
When contacted by The Sunday Times, a senior official of the Embassy of Sri Lanka in Brazil said the Consul General in Rio had been ordered to inquire into the matter. He added that the issue would also be taken up with the Heads of Missions of Buddhist countries such as Thailand, Myanmar, Vietnam and Japan. Meanwhile, the Sri Lankan Embassy in Germany had met and briefed authorities in Hamburg where a hotel named "Buddha's Kitchen" was found to be in operation. The tourist hotel which also maintains a website www.buddhas-kitchen.de is situated near the train station in Hamburg, a suburb of Germany and depicts the head of Lord Buddha on its vehicles and in the interior of the hotel. This portrayal of Lord Buddha which often serves as the means of identifying the religious leader is deemed unethical by religious groups.
The matter came to light when several Sri Lankan Professors from Moratuwa University who were participating in a workshop on recycling came across this hotel and brought it to the attention of the authorities.