KYMCA weightlifters dominate at national C'ships
The Kandy YMCA weight-lifting teams conquered all the glory at the National Championships held recently. The team coached by the former National Coach Athula Wijewickrema won the men's, women's and overall titles.
Kandy YMCA (24 points) beat the Army (12) in the men's section, while the women beat their counterparts from Wadduwa 18 points to 8 the overall championship was won by the YMCA beating the Army 42-12.
Ransilu Jayathilake set up two new Sri Lanka records in the Clean & Jerk 168 kgs and in the 94kg event he became the first lifter to surpass 300 kgs. Among the women, Nadini Gunasekera established three new Sri Lankan records.
Kandy YMCA Team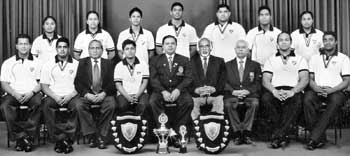 Standing:
(L-R) T.M. Rasanjali, Dhammika Harischandra, K.K. Asanga, C.T.J. Perera, W.P.G. Jayawickrema, K.G. Jayalath, L.G. Vinodani.
Seated:
(L-R) N.P.K. Herath, R.P.M. Wijeratne (Capt) Donald Fernando (President) Nadini Gunasekera (Womens' Captain), Athula Wijewickrema (Coach), David Edirisinghe (Chairman), S.A. Wijewickreme (Coordinating Secretary) Ransilu Jayathilaka, P.K.N. Dayan