MALSIRI : Epitome of grace and style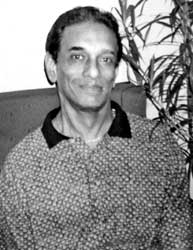 Malsiri Kurukulasuriya
In the 1950's a young willow-wielder who was to be the epitome of grace and style, announced his arrival with an innings of 130 against Kingswood in an Under-14 game. That lad, Malsiri Kurukulasuriya went on to represent the Trinity team from 1956 to 1960, captaining the team for the latter half of the season in his final year.
The left handed, portly Nimal Maralande and the small-made Malsiri proved to be the twin terrors as they blasted many opposing schoolboy attacks. Quite often they struck tandem. On other occasions it was a case of 'Malsiri will get you, if Nimal won't'
Eight hundreds and eighteen fifties in his four year career at Trinity bespeak an avalanche of runs. He enjoyed himself against the Josephians (101 in 1956/57) Dharmaraja (102,119) Zahira (150 not out) (118 S Thomas') and Jaffna combined Schools (131 not out in Jaffna).
An innings of 65 against S. Thomas' evoked the following comments: "It was Kurukulasuriya who played attractive Cricket and put-Trinity on the road to victory. He is one of the best batsmen in the Schools. His driving and pulling was done with clock-work precision."
His 118, also against the Thomians, was spoken of thus: "Kurukulasuriya batted with the almost confidence. His stroke-play was elegant and the way he went about collecting his runs was masterly." On leaving school, he turned out for the University and SSC teams in Sara Trophy Cricket. His late father being a Doctor and person of considerable means, Malsiri was, ere long, sent to Oxford. An Oxford trialist and described as "a young Ceylonese with a tremendous batting reputation", Malsiri, sadly, was not selected for the annual inter Varsity match against Cambridge.
The Nawab of Pataudi Jnr. was his Captain and, had Malsiri played, he would have joined his predecessor F.C. de Saram and Dan Pitchaud as being the three Ceylonese to represent Oxford against Cambridge. Coming down from Oxford, Malsiri stayed on in England and played Club Cricket for Uxbridge CC where he proceeded to get a thousand runs in the barely half the season completed. This rare reviews continued: "He looks a powerful number three or four batsman and is particularly wristy in his stroke-play".
After numerous near-misses, he finally reached three figures against Boyne-Hill CC. This knock was commented on in this manner- "The stylish Ceylon-born all-rounder who has several times made big scores this season, and often been dismissed when nearing a century, hit 111 with 14 fours, much to the delight of his team-mates and the spectators."
Malsiri migrated to Canada after his sojourn in England and in due course he was picked to represent Canada in a three day 'test' against Ireland at Toronto. He was a member of the East Canadian team that beat Ian Chappell's world cup seeking Aussies. The losing skipper's sole remark after the defeat was "on the day we lost to the better side." In addition, Malsiri played for his adopted country against the USA, the West Indies and Scotland. He finished his playing career by captaining the Canadian national side.
Sri Lankans, Rohan Jayasekera and Brian Rajadurai, inter alia, turned out for the Canadian side subsequently. The Canadian side was also coached by him when West Indian Jeff du Jon threw up the job to concentrate on his international career. Returning to his country of origin in 1995, Malsiri has done short stints of coaching with the Trinity Juniors and Kandy CC. He is almost beside himself with rage that Kandy- the second largest Cricket-playing City – has no team in the first division.
He feels there is enough talent, but that the two main clubs have to pool their resources. . It is a shame that a good player from Kandy has to go the main City to enhance his prospects.