Sanath Gunathilaka takes to teaching in Kandy
Sanath Gunathilaka plays a major role in the film 'One Blood' , the first directorial venture of popular tele director Sanath Abeysekara.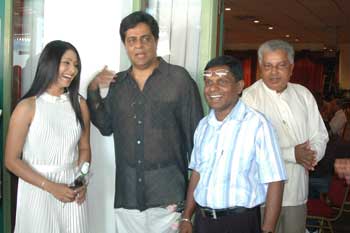 Udayanthi , Sanath G. and Sanath Abeysekara
Sanath Abeysekara started work on this new film 'One Blood' today in which award-winning actor Sanath Gunathilaka is playing the role of a Tamil school principal. The film based on a story by producer Ranil Samarasinghe and scripted by director Sanath Abeysekara, will centre on the ongoing ethnic conflict that has plunged the country into chaos.
Sanath Gunathilaka, Roshan Pilaptiya, Ajith Weerasinghe, Kanchana Mendis, Kusum Renu, Hyacinth Wijeratne, Sarath Dikkumbura, Sanjeewani Weerasinghe, Stanley Krishnaratne, Ranjani Raj Mohan, Udayanthi Kulathunga, Chinthaka Kulathunga, Nadaraja Sivam, Shirley Dandeniya, Darshani Niwanka, and several other popular artistes play key roles in the movie.
Sanath Gunathilaka in his address at the muhurath ceremoney recently said though extravagant events are held to launch new film projects, the same attitude, goal or interest is largely lost as the work continues.
Stopping short of naming names, he said the treatment meted out to most of his team members in some film projects were irritating.
Sanath said though he got the best of treatment the rest of the team members had to suffer in silence. Calling upon all those responsible to curb this situation, Sanath also commented on the role played by the media for the welfare of films. Some of the scenes in the film will be shot in Kandy area.