Vanilla output rising in Sri Lanka
Story and Pix by Nimal S. Bogahawatta, Matale Special Correspondent
Vanilla is in the forefront of Sri Lanka export crops and farmers are urging the government and the private sector to encourage more Vanilla cultivation since it can be done even as a home garden crop. Vanilla grows as a vine, climbing up an existing tree, pole, or other support.
According to M.B. Madugalla, Vanilla Cultivation Association, Kandy there are 91 Vanilla Cultivation societies in Matale, Kandy, Kegalle, Nuwara Eliya and Kurunegala and those societies have 2320 members. The Association expects to promote Vanilla cultivation in Ratnapura, Galle, Matara and Badulla too.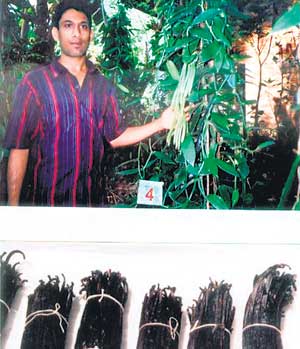 The vanilla stems
Wijetunge Banda, Vice President of the Kandy Vanilla Association, said that it had bought 2,013 kg paying Rs. 927197 from 450 members of Vanilla societies. Vanilla plantations first commenced in Mexico and later spread to Uganda, Indonesia, Madagascar and Sri Lanka. According to Madugalla, production began here under a UK- funded project in 1992.
While the west has found a synthetic type of Vanilla, the flower is used in beverages, medicine, perfumes, ice cream, Vanilla sugar and tea and even in the production of cloth.
Prema Wijesinghe, a government official, says there is a demand for natural carbonic products which in turn creates a demand for natural vanilla from countries like the UK, Europe, Denmark, France, Canada and Germany. While the world market demand annually for Vanilla is 28,000 metric tones, only 3,500 to 4,000 tonnes are produced. Synthetic vanilla fills the vacuum.
According to I. W. Wijethunga, Co-chairman of the Kandy Vanilla Association the association has spent Rs. 927197 for 2,013 kg in 2007 through 91 associations from 450 members. They hope to buy Rs 1.5 million worth of vanilla in 2008 and also hope to cultivate vanilla on 5,000 acres by 2010 hoping to achieve a target of one metric tonne annually.
Today Vanilla is sold at Rs. 6,000 per kg to Elephant House and producers hope to reach trade deals with Lanka Canneries, Hayleys, British Ceylon Exports and Nadisha Enterprises. According to another association spokesman, a high quality variety that was produced on one occasion fetched a price of Rs. 15,000 per kg.