Ves dance on way out?
A veteran artiste who has specialized in turning out glamorous costumes worn by those performing the Kandyan Ves dance (Ves natum) laments that the historic costume which is traditional and which depicts Kandyan culture is on the way to extinction.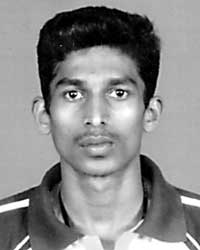 Ajithsiri Nissanka
Ajithsiri Nissanka of Kundasale says that the turning out of this special costume which consists of many pieces, is now an expensive business due to high costs of raw material.
Ves dancing is dedicated to Goddess Pattini and is traditional to the up country while the five-piece outfit is unique in the arena of Ves dancing which delights the onlooker and keeps his eyes riveted on the performer.
If nothing is done by those responsible to address the situation, Nissanka says it would be the end of this specialized art of dancing. Speaking on the past glory of the Ves natuma he traced it way back to 1965 when his grandfather K A Charlishamy commenced the art with the blessings of the MP of the area U. P. Y. Jinadasa, during the administration of Mrs. Sirimavo Bandaranaike.
Almost a family tradition, Charlishamy's son, Nissanka's father, carried on the tradition of Ves dancing which was continued by his brothers, running into the third generation. But due to exorbitant costs of raw material, turning out this uniform has become very expensive.
His grandfather got the necessary break those days by selling the costumes to Laksala, but today purchasing by Laksala has waned and as money is not quick in coming, Nissanka says it is not worth the time and the strain involved in making them. His products find some market in State and private institutions but as not many are aware of this trade, Nissanka appeals that publicity be given to his products. Inquiries by those interested could be made to him over tel. no 0777492978.
Three pieces of the five piece outfit