Harry to end Taliban hunt
LONDON - Britain's defense chief decided Friday to immediately pull Prince Harry out of Afghanistan after news of his deployment was leaked, citing concerns that media coverage could put him and his comrades at increased risk. Air Chief Marshal Jock Stirrup, chief of the Defense Staff, said he decided to withdraw the prince after senior commanders assessed the risks, the Defense Ministry said in a statement.
Harry, third in line to the British throne, has been serving on the front line with an army unit in Afghanistan's southern Helmand province since mid-December. He was originally due to return to Britain within weeks, but "the situation has now clearly changed," the statement said.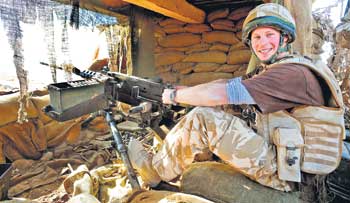 Prince Harry mans a .50 caliber machine gun, at an observation post in Afghanistan
The ministry asked the media not to speculate on Harry's location - or how and when he would return - until he was back in Britain. British officials had hoped to keep Prince Harry's deployment secret until he had safely returned, but they released video of him serving in Helmand province after the leak. The Australian women's magazine New Idea reported on Harry's deployment in January. The news appeared Wednesday in the U.S. Web site the Drudge Report, and media around the world subsequently reported it.
The ministry deplored the leak by "elements of the foreign media." "However, this was a circumstance that we have always been aware of and one for which we have had contingency plans in place," the statement said. Queen Elizabeth II said her 23-year-old grandson had performed "a good job in a very difficult climate."
Prime Minister Gordon Brown said the prince had demonstrated that he was an exemplary young officer and the country owned him a "debt of gratitude."Security considerations come first. That has been the deciding factor which was made by our defense staff and I think that everybody will respect that is the right decision," Brown said.
Harry is the first royal to serve in a combat zone since his uncle Prince Andrew flew helicopters during Britain's war with Argentina over the Falkland Islands in 1982. Tours to Afghanistan usually last six months; Harry has served 10 weeks. Harry conceded in an interview filmed last week that when he returns to Britain he could be a "top target" for Islamic terrorists."Once this ... comes out, every single person that supports them will be trying to slot me," he said.
But he said his deployment was a welcome chance to escape from paparazzi and hostile headlines. He said it was probably the best chance he'll ever get at being a normal person."To be honest with you the one nice thing is not knowing what's in the paper, what kind of rubbish people are writing," he said.
The deployment plan had been disclosed to reporters, with no specific date, but was not reported previously because of an agreement between the Ministry of Defense and all major news organizations operating in Britain, including The Associated Press. The news blackout was intended to reduce the risk to the prince and his regiment.
Harry was supposed to go to Iraq with the Blues and Royals regiment in May last year but the assignment was canceled because of security fears. Iraqi insurgents made threats on Internet chat rooms, saying he would not make it home alive.
Harry trained at Sandhurst military academy and joined the Blues and Royals as a cornet, the cavalry regiment's equivalent of a second lieutenant.