Gaza under attack
Israel kills 22 Palestinians in Gaza raid
GAZA, Saturday (Reuters) - Israeli forces killed 22 Palestinians in the Hamas-led Gaza Strip today in the most intense fighting in weeks and Israel threatened a broader offensive to stop rocket fire. A total of 57 Palestinians have been killed in four days of Israeli raids and air strikes in the Gaza Strip that the Jewish state launched after cross-border rockets killed an Israeli man on Wednesday and reached deep into a southern city.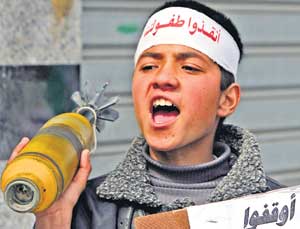 A Palestinian boy chants slogans while holding a shell during a protest against the killing of Palestinian children in Israeli air strikes, in Gaza City, Friday, Feb. 29, 2008. Since Wednesday, 57 Palestinians have been killed by Israeli missile strikes, including eight children, according to Palestinian officials. Bandana around head reads 'Save my childhood'. (AP Photo/Adel Hana)
Of the 22 killed on Saturday, 11 were civilians and the rest militants, according to hospital staff and the Islamist Hamas movement, which seized control of Gaza last June after routing the more secular forces of Palestinian President Mahmoud Abbas.
Witnesses said fighting erupted after Israel soldiers, backed by helicopter gunships, entered northern Gaza and were confronted by Palestinian gunmen. The Israeli army confirmed its forces were operating in the area and five soldiers were lightly wounded in the fighting.
An army spokeswoman said about 20 rockets were fired into Israel today, including three Soviet-designed Grad missiles, which are more powerful and accurate than improvised, locally produced Qassams. Hamas has said the rocket attacks were a response to Israeli raids into Gaza and the West Bank. Three Israelis were lightly injured by rockets that reached deep into Ashkelon, a city of some 120,000 people.
Israeli leaders said they may have no choice but to launch a broader offensive in the Gaza Strip if Palestinian militants do not stop rocket attacks on the Jewish state. On Friday, Israel's Deputy Defence Minister Matan Vilnai warned Gazans they risked a "shoah" if rocket fire did not end.
An aide said Vilnai meant "disaster" rather than "holocaust," the word's more common meaning. The strength of his language reflected mounting anger after Wednesday's killing. The United States urged Israel to "consider the consequences" of any action ahead of next week's visit by U.S. Secretary of State Condoleezza Rice. More bloodshed could derail Washington's hopes of a peace deal before President George W. Bush steps down next January.
Hamas officials said there had been an "international silence" over the "massacre", including from fellow Arabs. Abbas, who remains deeply hostile to Hamas, called Israel's threats and preparations to target Gaza "dangerous". Israel withdrew troops and settlers from Gaza in 2005 after 38 years.
Though rocket fire has long disrupted life in southern Israeli towns, the killing of the Israeli on Wednesday -- the first death of its kind since May -- has put pressure on Israeli Prime Minister Ehud Olmert to increase military action.