King Sahassamalla
~This article is part of a continuing series on the 'Mahavamsa,' the recorded chronicle of Sri Lankan history~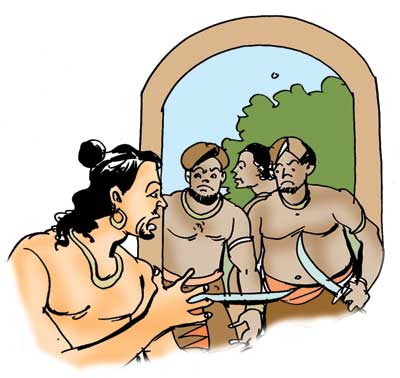 King Sahassamalla was also known as Sirisangabo Kalinga Vijayabahu. According to the evidence of the inscriptions, this king had been invited, soon after the death of King Nissankamalla. That invitation had been extended by two of the 'Adhikaris,' who belonged to the family of Lolupele. They had sent a Kalinga noble named Mallikarjuna. Prince Sahassamalla left from the harbour named Kangakonda in the Chola country.
On his way, he had to encounter a lot of trouble from his enemies. He had been successful in defeating them and landing in Sri Lanka safely. On August 23, 1200 (A. D.), he had been crowned as king. This king had been living in the Chola country during the period from the end of 1198 to the first few months of 1200 A. D. This covers, almost two-thirds of the period of Queen Leelawathie's rule.
This proves that the Cholas were friends of Sahassamalla. In fact. They had even extended their help to him. This the Cholas would have done as a protest to Queen Leelawathie, who was a Pandya queen, as they were not friendly with the Pandyas. The Pandyas were often against the Cholas. The Lolupele Adhikaris were powerful. They were supportive of the Kalingas and enemies of Queen Leelawathie.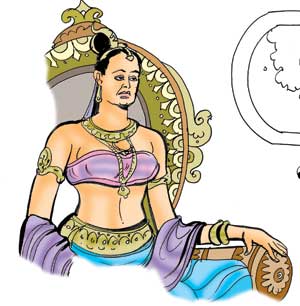 They were erstwhile enemies of General Kitti. Strengthened by the support of both these Adhikaris and the Cholas, Prince Sahassamalla was able to come to the throne. Queen Leelawathie, who was just the nominal ruler, was deposed. The two Adhikaris were given position as commanders and ministers. They got grants of villages too. In an inscription which is to the north of Polonnaruwa, Hetadage – makes mention of this.
The Adhikaris managed to kill General Kitti. King Sahassamalla ruled for two years – 1200-1202 A. D. He was deposed by General Ayashmantha. He wanted the queen of Nissankamalla, Queen Kalyanawathie, to be the ruler. Here again, though she was enthroned, the real administration was carried on by the general.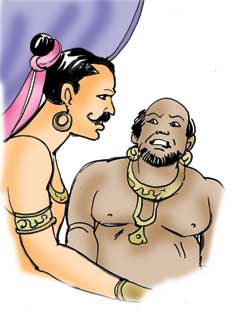 Queen Kalyanawathie preferred this arrangement. General Ayashmantha liked to get engaged in meritorious deeds. He sent an Adhikari named Deva, to the village of Valligam. A beautiful temple was built there. He had got a pirivena erected, in his name. Fields were donated for its maintenance. Queen Kalyanawathie too had got a temple built in the village named 'Parnashalika.' This had been built in her name. She had donated fields for the maintenance of this temple. Servants too had been sent there, for its functioning.
Her rule lasted for eight years. This queen was of pure Kalinga origin. In one of her inscriptions, she mentions, revolts by Tamils. In a Minipe inscription, it is noted that during the eighth year of her rule, a big crowd of Tamils had come to Sri Lanka. It is further stated that they destroyed religious organizations. But none of these things are mentioned in any of the Chola inscriptions.
Queen Kalyanawathie was deposed in 1209 A. D., and that was done by the very same General Ayashmantha, who brought her to power. Thereafter, an infant of five months, named Dharmashoka, was made king. General Ayashmantha carried on the administration.