A revolution in eco products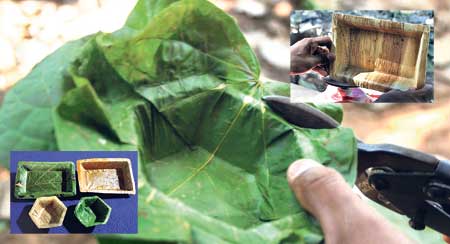 Product range
Kurunegala -- Eight years ago, on a pilgrimage to Bodhgaya in India to follow the footsteps of the Buddha, A.U.R. Chandrasiri encountered a strange sight.
While visiting the Taj Mahal in Agra he noticed that the Indian food-sellers were selling their eatables on plates made from small tree leaves. "They don't allow you to take polythene into the Taj Mahal," he said. "Those vessels were very weak and couldn't even hold the food without crumbling. And then it got me thinking of how we could make it better, with less effort, in our country". Now as the enterprising proprietor of Delshan Enterprise (Pvt) Ltd, Chandrasiri has incorporated the idea into a unique eco business.
Chandrasiri is in the business of making various utensils-plates, dishes, cups- exclusively out of tree leaves.
The Sunday Times FT was taken through the interesting process during a recent visit to his small but thriving workshop in Melsiripura, Kurunegala. The actual process is relatively simple, although the work involved is no easy task for the proprietor.
The leaves are treated differently depending on their condition and purpose. For instance the branches of the areca nut tree, commonly knows as the kola patha in Sinhalese, is first dried intensely.
"Once it is dry you can keep it for as long as you please," says Chandrasiri, adding that the kola patha is then soaked in water to make it more pliant. The leaf is then steamed into shape by an electrical machine that was perfected by Chandrasiri himself. The machine uses a heated die (not a colorant but a steel device) to press the leaf into shape. Once the shape is obtained, the remainder is cut away.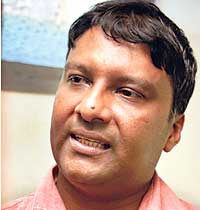 A.U.R. Chandrasiri
Unlike the kola patha which is very tough, some leaves are not strong enough to hold much weight, and in those cases two leaves are glued together using a food-grade adhesive. Some other leaves are treated with a food-grade chemical to help them keep longer. Since these are eating vessels, all products used on them are food-grade and the machines are not rusted. Also, the temperature at which the leaves are shaped is acute enough to eliminate all micro-organisms.
The leaves come from all over the island. The open-air workshop itself is on tree-heavy land that belongs to his family, which is a blessing, he says. "Most of the teak and kottambha come from here," he says. Some leaves come from Kotmale, and some from Kithulgala. The 'Kanda' leaf from which he makes an attractive green plate has been a bone of contention between him and the Forestry Department because of its status as an indigenous plant, but otherwise, raw material has not been much of a problem. "It is their transport that is costly," he complains.
The journey has not been easy for Chandrasiri, a former employee of the Sigiri Village Hotel. With a background in electronics and engineering and a stint in the Dambulla Technical College, he started with his own small business in electronic appliances. Over the years he obtained the ownership of a service station in Melsiripura and seemed well set for a comfortable life. "I took this up as a hobby," he says with a smile, "I didn't think it would bring me any profit."
After considerable effort and failure on his part to find the machines he required locally, he resorted to designing it himself. "It wasn't easy because the leaves burn easily and the temperatures vary if they are even a little damp," he says. However, after a number of discarded sets of equipment and many charred leaves, the machines were perfected. As an added precaution, Chandrasiri patented the whole process under product number 13907, covering all the bases.
He already has a wide range of goods. The basic eating vessels of cups, plates and dishes of varying sizes are his standard produce. Besides this, Chandrasiri has started producing the eco-version of the Styrofoam lunch boxes that are commonly found in the city, out of the kola potha.
Nissanka, an 18 year old boy, from the neighbourhood is the only worker present in the workshop.
"He comes from poor economic conditions so I'm, apprenticing him," says Chandrasiri who also says that the young man is now fully competent. This highlights one of his most daunting challenges- the lack of a labour force. To counter this, his plan is to outsource the work to a certain extent by giving out the machines to some households to do the work for him. By allowing his collectors to make the vessels as well, he will also be reducing on his transport costs. As of now, Chandrasiri's main clientele has been a few up-market hotels and resorts. He has supplied vessels for a wedding along with cake boxes and even the cards using the kola patha, which can be printed on.
When asked when he plans to enter Colombo, Chandrasiri gives a sheepish smile.
It appears his first plan is to maintain his low-profile and price the vessels correctly. Afterwards he will approach the eco lodges and chic department stores that market eco goods as a kind of eccentricity for the upper class. As evidence to his desire to take on the bigger market, he displays his store-room full of the dried strips from the areca nut tree. He assures us that there will be no problem with supplying large orders.
"When polythene came in everything changed," he says, adding that while polythene remains, eco-goods will always take the backseat. However, he adds hopefully, "if we stop at least one polythene bag going into the ground, it is a success".