Hayleys AIG Insurance risk management forum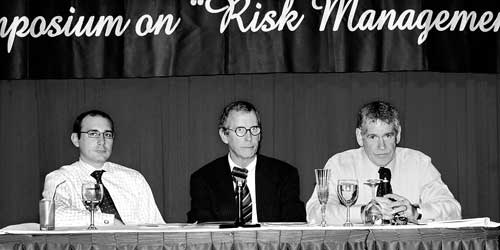 Seated from left -Ziad Kubursi – Regional Vice President for Major Accounts and Corporate Accounts, John Sabalis – Regional Senior Vice President for Claims, Stuart McCreadie – Regional Risk Engineer
Hayleys AIG recently held its second Sri Lankan Risk Management forum aimed at raising awareness in the local market of risk management techniques as well as value added engineering and claims services provided by the company to manage risk through loss control and effective claims management.
Jean-Pierre Assaf, Managing Director of Hayleys AIG said this was part of 'our continued support of our insurance market and our commitment as a long term player in Sri Lanka.'
A company press release said presenters at the seminar included three regional AIG resources from the headquarters for the Middle East, Mediterranean and South Asia region based out of Dubai, UAE. Ziad Kubursi the Regional Vice President for Major Accounts and Corporate Accounts presented a general overview of AIG and it's capabilities in the market both as a global player and locally through Hayleys AIG. Stuart McCreadie, Regional Head of Engineering for the MEMSA, region highlighted the necessity of loss control and what to look for when evaluating a risk as well as measures to be taken as an organization to mitigate losses through risk engineering and risk control measures and programmes. John Sabalis, Regional Senior Vice President of Claims for the MEMSA region, brought the loss perspective of the region to Sri Lanka.
He highlighted the countries 2004 tsunami disaster where Hayleys AIG through its dedicated claims team managed and coordinated with regional resources to manage the situation through strength in communication, timely payments and amicable resolution.