Modera bomb house: The explosive truth
Riday's discovery shows magnitude of LTTE infiltration; VIPs believed to be on hit list
Troops make progress on Wanni fronts but guerrillas also regrouping for major counterattack
At a top-level security conference on Thursday, reports of increased Tiger guerrilla activity in the Modera area of Colombo city became the subject of discussion. However, none thought that the next day, the Police were going to unravel the activities of a man who had planned to unleash violence on a large scale. He blew himself up but the story is still unfolding.
It began when men from the Modera Police cordoned off Thunseeya Hetay Watte, or "360 Estate." In this slum area, the house numbers began with 300. It lies near Walls Lane, Alutmawatte. It was around 6.50 a.m. on Friday, when Chief Inspector Prasad Siriwardena led a team of 54 policemen on a search operation. They included those who had been manning police posts at Bloemendhal and Mattakuliya.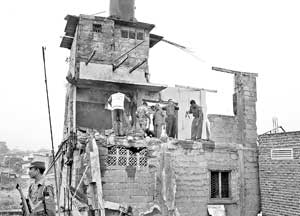 The three-storied dilapidated building at Modera - the scene of the claymore mine explosion. Pic by M.A. Pushpakumara
Police Constable Roshan Rupasinghe walked to a dilapidated three-storied building accompanied by PC Gamini Dissanayake and woman Sub Inspector B.M.R. Subashini. Four civilians including the owner of the building were there. The police team went to the ground floor, knocked at the door but found there was no response. However, residents in the neighbourhood had told them that a man whose identity they were unaware of lived there.
Therefore, they walked a staircase. This time, the owner of the building knocked at the door to the entrance of what appeared to be a flat. He wanted his tenant to come out. For a while, there was no response. He kept knocking for sometime. What happened next was a thundering explosion. The door flung open. The man inside was no more. His severed head lay some 15 metres away. The three police officers were injured, two of them seriously. Also injured were the four civilians. Policeman Rupasinghe succumbed to his injuries on Friday night.
Within minutes news spread worldwide that another suicide bomber had detonated explosives strapped to the chest. Contrary to reports, 28-year-old Nadarasa Wijetharan, exploded a claymore mine, said to be weighing at least ten kilogrammes, blowing himself apart. A native of Pungudutivu (Kayts), one of the outlying islands off the Jaffna peninsula, he is described as an expert in assembling claymore mines.
The Police were in fact looking for Wijetharan. How he came to their notice is no doubt a creditable effort by some persevering police officers. It began with the Special Branch, an intelligence arm functioning directly under the Inspector General of Police, Victor Perera, arresting two female suspects. The women, who plied the oldest profession in the world, went by their nom de guerre "Mallika" and "Indu Akka." They were to reveal that one of their regular clients had been Nishanthan, a Tiger guerrilla cadre.
He had lived either in the Modera or Grandpass Police areas. Since the Special Branch does not engage in operational tasks, the two police stations were alerted.
The Grandpass Police raided a guerrilla hideout in their area, arrested Nishanthan and recovered a small arsenal, part of guerrilla hardware smuggling in to the City of Colombo to wreak havoc. That included two suicide jackets, four claymore mines, a remote controller, C-4 plastic explosives, four hand grenades, ten detonators and three cyanide capsules. Police say a honey trap was laid for Nishanthan to inveigle him and he fell into their net.
He was under intense interrogation and spoke about an associate he had met. That was Wijetharan, a key guerrilla operative. He remembered dropping him off near Thunseeya Hetay Watte one evening. They had travelled together in a three-wheeler scooter taxi.
That was how the search operation came to be planned. One of the three civilians who went along to the three-storied building was Nishanthan. He accompanied the police party to the building so Wijetharan could be identified. However, the latter, fate decreed, had to blow himself up with a claymore mine meant to kill others, possibly civilians too. Police found a large amount of money and a 9 mm micro pistol, a standard weapon used by guerrilla hit squads.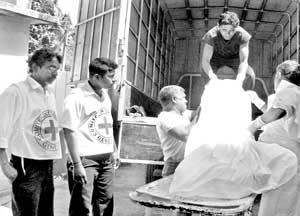 ICRC staff watch as bodies of guerrilla cadres are loaded on to a lorry to be moved to Kilinochchi. Pic by Athula Bandara
Police investigations have revealed that the three-storied building belonged to S. Kasinathan. He had rented it to Selvanayakam Varanam. The latter had been married to Wijetharan's sister. The Tiger guerrilla had been living alone in the dilapidated building for over a year. Police believe he was in touch with at least a few other guerrilla groups operating in the City of Colombo and suburbs.
Even if Wijetharan was killed, the incident at Modera, lays bare a chilling fact, the magnitude of which was not known earlier. The LTTE had established a number of cells in the City and suburbs, both to store military items and cadres who are tasked to carry out attacks. Some of them, like in Modera, have come to light recently. Weeks ago, the Pettah Police made a string of arrests of guerrilla suspects. It led to the recovery of claymore mines from a hideout in Puttalam. Yet, the February 23 abortive guerrilla attempt to kill passengers inside a bus by exploding a bomb at Mount Lavinia was averted due to an alert passenger. The passengers were able to alight from the bus before the explosion. Nevertheless, the hideout from where the bomb came or where the cadres were operating from has not been identified.
The Ministry of Defence has now directed that investigations into this matter be handed over to the Criminal Investigation Department (CID). This is in the light of revelations that a number of VIPs were among targets to be assassinated by some members of this group. Taking charge of the investigations last week was Sisira Mendis, SSP who has once again assumed duties as Director of the CID. Mr. Mendis, who was in charge of the Vavuniya district, succeeded Nimal Kulatunga, SSP who has retired from service.
As pressure mounts on the guerrillas due to ongoing military offensives in the Wanni, security authorities have warned Police and troops in major towns to be vigilant. This is particularly in Colombo and the suburbs. The move has led to Police deploying civilians to assist them at roadblocks and checkpoints.
In the battlefields of the Wanni, if early part of this week saw a relative lull, heavy fighting erupted later. It was particularly in the Mannar sector. Troops advancing on the flank west of the Giant's Tank fought pitched battles with Tiger guerrillas. This was ahead of the Government controlled one time entry-exit point at Uyilankulam. It was then a second gateway to the Wanni besides the main one at Omanthai.
Last week troops seized an area which the guerrillas had used as a vehicle checkpoint (further ahead of Uyilankulam). This was to inspect vehicles which were then headed for the Uyilankulam checkpoint from areas dominated by them.
Army sources in Mannar said they had killed at least 20 guerrilla cadres, most of them young female recruits. Some of the bodies were handed over to the Liberation Tigers of Tamil Eelam (LTTE) through the International Committee of the Red Cross (ICRC). "They refused to accept some," the sources added.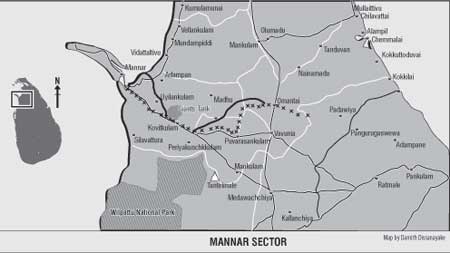 However, the Tamilnet web site claimed 11 soldiers were killed and several wounded in battles in Pandivirichchan — a claim which was denied by senior Army officers in the Wanni. According to the web site, the guerrillas re-captured a "position at Pandivirichchan" which was seized by the Army on Friday morning. It said the Army had captured the area earlier that day. Army sources insist the troops had made further advances in that sector and seized more guerrilla dominated areas. The Army's thrust on this flank, together with another flank moving east of the Giant's Tank, is to take control of areas in and around the Madhu Church. Thereafter, troops are poised to take control of Vidattaltivu where the Sea Tigers operate a major base.
In the thrust north of Janakapura in the Weli Oya sector, Army sources say, the troops had further extended their defended localities. This is in the stretch of "no man's land" far south of the lagoons at Thannimuruppu and Nayaru. In addition, troops are also carrying out periodic attacks on guerrilla positions south of the defence lines astride the one time entry-exit points at Muhamalai.
Some key aspects relating to the military offensives in the three major fronts in Wanni cannot be revealed or commented upon due to serious constraints. Intelligence sources say there were indications that the guerrillas were re-grouping in the Wanni.
There have been reports of artillery guns being shifted to some locations where cadres are being concentrated. Increased radio traffic, they say, gave indications of planning for an attack or more.
The Government is taking all measures to ensure that efforts of the troops on the battlefront are not interrupted and their welfare is looked after. In this regard, a goodwill mission that Prime Minister, Ratnasiri Wickemanayake, will undertake later this month to Israel assumes greater significance. Defence Ministry sources said his delegation will comprise some top military officials too.
In this backdrop, there is not only a need for continued vigilance by Sri Lankans but also a greater awareness of what they face. The troops and the Police are working hard to avert violent incidents. What the guerrillas want to do outside the Wanni theatre of conflict is just that.