Nilar; the Bridge between the Barriers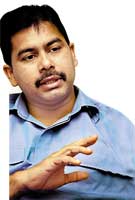 Nilan N. Cassim
Nilar N. Cassim is the first Muslim who marked a remarkable sign in the literary world with his poetry, songs and translation of Tamil literature bridging the barriers of two cultures Sinhala and Tamil.
The one and only Muslim honours graduate in Sinhala language, Nilar's contribution to the literature both Sinhala and Tamil, enhancing the intercultural friendship and breaking bilingual barriers was recognized at the recently held Bunka Awards-2007. More than one and half decades in the field of literature and lyrics writing, Nilar recollected his role being an 'ambassador' or a 'bridge' between the world of Tamil and Sinhala literature.
TVT: Can you tell us something about your entrance to the literary scene?
Nilar: Born in Matara and studied at Rahula College, Matara, I started writing poetry and fiction as a schoolboy. I used to write poetry to various newspapers and took part in all the literary activities of the college. In addition I got an opportunity to work as a relief announcer at the Ruhunu Service of Sri Lanka Broadcasting Service. It was at this time that I got interested in writing songs and mailing them to singers I loved. My first song was selected by Malani Bulathsinghala who had selected one of my lyrics in a file of Karunaratne Divulgane.
TVT: As a lyrics writer what memories do you consider precious?
Nilar: Writing nearly 500 songs, I am glad that I was fortunate enough to write songs for a variety of singers and also work with a large number of leading musicians including veterans and those from the younger generation. And I was really fortunate to write lyrics for the veterans in several generations in the local music scene starting from Latha Walpola and Nanda Malani and Malani Bulathsinghala, Sunil Edirisinghe, Milton Mallawarachchi, Abeywardena Balasuriya, Niranjala Sarojini, Edward Jayakody from the former generation and the present generation representing Bathiya-Santush, Chamika Sirimanne and Ajith Bandara. Similarly they were directed in music from by Premasiri Khemadasa, Sarath Dassanayake, Austin Munasinghe, H. M. Jayawardena, Rohana Weerasinghe, Samantha Perera, Navaratne Gamage and Bathiya-Santush, a fine variety of veteran and newcomers.
And I am also glad that the audience accepted my songs not only on romance but also a variety of subjects like war, social discrimination, environmental pollution etc.
TVT: Being a Musilm what attracted you to Sinhalese, the language which is not used by the majority Muslims?
Nilar: It was on the influence of my parents who got me to study in the Sinhala medium. Inspite of being brought up in a typical Muslim background with Tamil as my mother tongue, the three boys in our family were sent to study in the Sinhala medium while the two girls in the Tamil medium. On this backdrop I quickly fell in love with the language and continued my higher studies in Sinhala till I received an honours degree.
TVT: What importance do you feel being a Muslim excelling in Sinhala language and literature?
Nilar: There was a time where Muslims were considered a community who spoke broken Sinhala with a funny accent and this even was used in dramas to create humour. But really the mother tongue of Muslims in Sri Lanka should have been Sinhala just like other Muslims in different countries who use the language that the majority use as their mother tongue. It should have been Sinhala Muslims rather than being Tamil Muslims. But this did not happen due to historical reasons including that most of the Muslim community lived in the places where the Tamil language was used.
TVT: What kind of importance do you see in your role as a Muslim introducing Tamil literature and culture to Sinhala?
Nilar: Lack of communication due to the language barrier between Tamil and Sinhala communities led to ethnic problem resulting nearly three decades of a long war in this country. And I believe that Muslims who bring themselves up in the Tamil background will be able to be bridge or be ambassador between the two cultures. This is the most important role that Muslims can play at this hour.
TVT: Any plans for the future?
Nilar: I want to be part of breaking the barrier between Tamil and Sinhala while doing more studies on the two languages. On lyrics writing I want to take our lyrics to promote with the development in the music and song writing scene internationally.