Sapiriwara; a story of corrupt politics, war and suffering
By Susitha R. Fernando
'Sapiriwara', portraying a woman who undergoes a many a suffering throughout her life is the latest teledrama that joins the ITN teledrama belt. Starting from November 19 it will be telecast every Monday at 7.30 pm.
Directed by Samith Rohana Tittawelgala, the teledrama is produced by Karuna Weerakoddy and it stars by Malani Fonseka, Douglas Ranasinghe, Maureen Charuni, Neil Alles, Janaka Kumbukge, Himali Saurangi, Asela Jayakody, Sumitha Ratnayake, Richard Weerakkody, Prasanna Fonseka, Rohitha Mannage, Gnananga Gunawardena and Quintus Weerakone and few other leading stars in the miniscreen.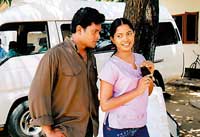 Yasohamy is a woman who is forced to undergo many a suffering from her childhood. She loses her father and mother when she was young and left alone with her only brother Jayasekera. However she undertakes a promise of her dying mother to look after her brother and be with him. In order to accomplish this promise she takes up working in houses and manages to provide Jayasekera a sound education. And Jayasekera gets a job as a clerk in a government office and gets married to Sunethra, a woman from a poor yet high caste background. And he gets two children as he undergoes financial difficulties, Yasohamy assists him with borrowed money from others.
Yasohamy meets a poor farmer from Anuradhapura, Sirithunga and marries him. She gives birth to two children Chandana and Raja, a simpleton. Sirithunga, however is against Yashohamy who spends money on her brother. He advises Yasohamy to stop spending money on her brother and when she does not stop it he leaves her but continues to support the family.
Faced with financial difficulties, Jayasekera is forced to seek foreign employment and his wife encourages this. But unexpectedly he is falsely implicated in robbery and he is arrested. Yasohamy rushes to the police to rescue her brother but as she has no way to get her brother out she falsely implicates Simion, who is helpful to her. For this she is scolded not only by the whole village but also by her own children.
Meanwhile Jayasekera freed from the jail, undergoes serere financial difficulties and he mortgages his house. However the destiny of Jayasekera's family changes when Sunethra's brother, Sunanda a corrupt politician joins the new government and gets into the cabinet. This new changes bring wealth and luxury to Sunethra and Jayasekera but Jayasekera decides to live with what he earns rather than misusing public money. Sunanda collects illegal money by using the shanties of the poor and Jayasekere is strongly against this. This brings a rift between Jayasekera and Sunanda.
Meanwhile two cousins, Yasohamy's son, Chandana and Jayasekera's daughter Ama fall in love. Unable to find a job, Chandana joins the Army. Sunethra who comes to know the affair makes strong opposition. Instead she proposes his brother Sunanda's son to Ama and when she refuses with the support of politics Chandana is transfered to Vavuniya. Sunethra further threatens if Ama refuses to marry Sudara that Chandana will be transferred to operational areas. This makes Ama helpless.
Unable to cope up with the financial difficulties Yasohamy starts selling fish with the support of her son Raja. One day their plight is highlighted in a newspaper. This enrages Sunethra and her politician brother Sunanda. After this incident Yasohamy decides to quit her job but financial constraints prevent her. And she undergoes a series of hardships. First her son, Raja disappears and Chandana returns a cripple from the war. She goes in search of her lost son. Will Yasohamy ever see an end to her sorrowful plight? Watch 'Sapiriwara'.