Rhythm of Dreams; a night full of stars
Rhythm of Dreams' a evening of song and dance by the country's silver stars and singers will be held on November28 of 2007 at the BMICH Colombo. The show, an entertainment for the entire family will feature creative dancing events, songs and music, comedy shows and action sequences with dancing performances by a Thai dancing troupe.

Manoj Peries, Chandana Wickremasingha, Lal Silva, Francis Jesuthasan, Somchai Krikka and Illyas Silaiman
This show is produced by Lal Silva Managing Director of "Thai Lanka Entertainment (Pvt) Ltd newest organisation in the entertainment scene of the country. While the other directors are Francis Jesuthasan, Sjeewika Ofianthi who are also the project co-ordinators for this event and Somchai Krikka who is a partner of Thai- Lanka and Illyas Silaiman who is the International Marketing consultant.
The choreography and colourful costume designs of Rhythm and Dreams will be done by the well known dancer Chandana Wickramasinghe and his Dancing Guild. "The show will be a completely different experience to the audience where they will experience an international standard show,"says Chandana who had undertaken the task of training the stars and singers for their entertaining presentation.
"What we would hope to see is that our actresses will dances equally well with the trained dancers with a proper training. And during this short period they have proved that they have the ability to do it," Chandana said. The show will feature a performance by a traditional Thai Dance troupe.
Thai dancing including its world renowned 'peacock dance' will add extra glamour to the show and it would definitely be a novel experience to Sri Lankan audience, the dancing guru said. There will be many cinema and film acts performed during the show including songs sung by Samitha Mudunkotuwa, Keerthi Pasqual, Iraj, Supriya, Malith Perera, Uresha and Kushani Sandharekha.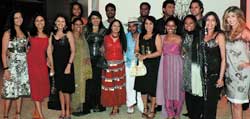 Stars of Rhythm of Dreams
Music for the show will be done by Manoj Peries while the show will feature some brilliant dance performances by big and small screen stars including Damitha Abeyratne, Sanath Gunathilake, Ranjan Ramanayake, Channa Perera, Nilmini Tennekoon, Anarkali, Sanoja, Osuadi, Roshan Ranawana, Nayana Kumari, Nadee, Suresh Gamage, Kevin, Rodney, Mahendra Perera, Sanath Wimalasiri, Manjula Moragaha, Nilanthi, Rebecca Nirmali, Tennyson Cooray, Dulani Upekha, Udayanthi, Anusha Damayantui, Anton Jude, Arjuna Kamalanath, Ameesha, Rajitha (pinpong) Lal, Anula and Tharindhu.
Speaking to the media, Lal Silva, Managing Director of "Thai Lanka Entertainment (Pvt) Ltd said that the future plans of the company is to have many more shows of this nature through out the year. Going a step further shows will the organized bringing down foreign artistes to perform at these shows along with the local artists.
Illyas Silaiman, the International Marketing consultant said that apart these performers plans are underway to bring down Bollywood stars to perform with the local stars. The company will be going into production of teledramas in the near future with the ultimate goal of producing films.