Atapattu considers Sydney relocation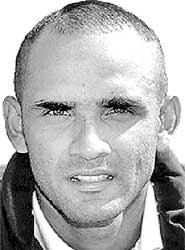 Marvan Atapattu
Outspoken Sri Lankan batsman Marvan Atapattu is considering retiring from international cricket after the Hobart Test and relocating to Sydney to play grade cricket with the St George club.
The Herald has learned that Atapattu held discussions with St George representatives between the first and second Tests regarding a possible move to Sydney. Should all go to plan, the former Sri Lankan captain would arrive in Sydney before Christmas and could be available for St George's round-nine clash with Gordon at Hurstville Oval.
Atapattu is currently embroiled in a tense stand-off with Sri Lanka Cricket officials following his withering attack on national selectors during the Brisbane Test. After compiling a half-century in the first innings at the Gabba, Atapattu fronted a press conference and branded Sri Lankan selectors "Muppets headed by a joker", the latter reference directed at panel chairman Ashanta de Mel.
Atapattu will face a disciplinary hearing over the outburst in Sri Lanka upon his return home. But sources close to the Sri Lankan team suggest that the veteran batsman is considering trumping his national board by announcing his retirement from international cricket before Sri Lanka's forthcoming Test series against England.
As well as talking to St George officials, Atapattu is understood to have held preliminary discussions with a prominent Australian media organisation regarding commentary work during the triangular one-day series between Australia, Sri Lanka and India later this summer.
No contracts have been signed, but it is understood there is significant interest on both the side of Atapattu and the media organisation.
Atapattu has been a contentious figure in recent months. The right-hander was initially overlooked by selectors for the Australian touring party, only to be called into the squad after the intervention of the Sri Lankan sports minister. Prior to Brisbane, Atapattu had not played a Test match since December 2005. However, as shown at the Gabba, he remains a dangerous batsman.
With 89 Tests and 268 one-day internationals to his name, the 36-year-old would bring a wealth of experience to St George. Earlier this year, the club failed in its attempt to bring Zimbabwean international Vusi Sibanda to Australia due to visa complications.