Challenges have just begun for me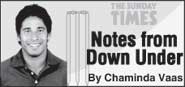 It is quite tough being a professional cricketer these days but this week I found that it was even harder to sit out a match, as Sri Lanka took on the Australians in the second test which began in Hobart, Tasmania on Friday. The first day has ended as I write and the Australians are strongly placed on 329 for three after Ricky Ponting won an important toss.
When the boys first arrived in the Tasmanian capital they found the weather to their liking. There was ample sunshine and conditions were quite comfortable for us, even though the temperatures were low at times.
There had already been widespread publicity given in the media to comments made by Marvan and there was speculation as to whether this would influence our performance. I must say however that whatever Marvan said did not lower our morale or hamper the team spirit.
Marvan is a former captain of the national team who enjoys great respect among the players but his personal opinion did not affect the team dressing room where the camaraderie was at its best. Our focus, as ever, remained on the cricket and the test match ahead.
As for the game itself, Australia had no hesitation in taking first lease of the wicket after winning the toss in conditions perfect for batting. And they went on to demonstrate how such conditions could be exploited and why they have been the best team in the world for so long.
There was a sense of repetition of what happened in the first test with Phil Jacques and Michael Hussey recording centuries, virtually carrying on from where they left in the first game.
The wicket was seaming in the morning and our bowling was quite accurate. Farveez and Lasith bowled a tight line and length, maintaining the pressure and keeping Jacques and Mathew Hayden tied down for quite some time.
But the Australians showed what can be achieved with patience and by following the basics. Hayden and Ponting fell relatively cheaply but Australia must be happy with their end of day one score of 329 having lost only three wickets in the process.
All is not lost, though. We may face an uphill task trying to restrict the Australians in their first innings but it is also a fact that the wicket is flat and getting slower and slower as the game progresses. Batting should not be difficult in these conditions and we should be able to post a decent score as well.
We have had our batting failures on this tour, especially in the big games and only Marvan and Michael (Vandort) scored fifties in the first test. Now it is up to us to show that our batsmen too can play the big innings when the occasion demands.
Unfortunately for me, I was informed by an official on the second day of the first test that I was nearly dropped for that game and that I played only because of the conditions at the Gabba in Brisbane.
It was a very disappointing development for me as I had expectations of playing my 100th test on this tour but I vowed to myself not to let that distract me from my task of performing for my country.
I thought I bowled well in the game and that we were unlucky not to pick up more wickets. I claimed only one wicket, but that was in the context of only four Australian wickets falling during the entire game as we lost by an innings and 40 runs.
Even after the first test, various reports appeared in the media suggesting that I would not be playing in the second test. An official was quoted in one of Brisbane's major newspapers as saying that in selecting the team for the first test I was on the verge of getting axed and only barely got the nod ahead of Lasith and that too only because the venue at Brisbane was expected to favour my kind of bowling.
I continued to attend net practices but I was under the impression that I would not be playing in the second test. There was a slight niggle between my shoulder and back but I continued to attend the training sessions as I believed I would not be playing in the test match.
However on Thursday, an official informed me that I might be playing in the game as Dilhara had an ankle injury. On the morning of the match I underwent a fitness test after which I said that I was not fit enough to play as I had a slight injury and also because mentally, I was not prepared for the game.
It was a very disappointing sequence of events for me after serving Sri Lanka for 99 test matches and being its spearhead pace bowler for many years but I am not blaming anyone for what I had to go through. Such challenges are part and parcel of the game and I am determined to overcome them.
I have played for Sri Lanka for fourteen years now and have taken over 700 wickets in tests and one-day internationals. With that kind of experience to rely on, I am not disheartened at all. In fact, losing out on a place in the team is something I would like to view positively, as yet another hurdle that needs to be overcome.
It is something that would motivate me to strive even harder to regain my place in the playing XI. Age does affect everyone and I would leave the game when I feel I cannot contribute a hundred per cent to the team.
But right now, I believe I am capable of doing that and I feel that I have about two more years of cricket left in me. And that is exactly what I would set out to demonstrate. I hope to comeback strongly and prove that this is not the end of my career. I hope we can come off with a creditable performance in the second test, so that we will be in a positive frame of mind for the forthcoming England tour to Sri Lanka and where we could get back to our winning ways. On the last tour to England, we exceeded most expectations, so there is no reason why we cannot do so again on home conditions.
I am eagerly awaiting the opportunity to perform again-and that opportunity comes in just a couple of weeks in the three test match series against England. After nearly a hundred test matches and over three hundred one day internationals in international cricket this might be my biggest challenge yet, but I have given the best years of my life for Sri Lankan cricket and I would like to leave through an open door-and not have doors shut against me