Steam rolled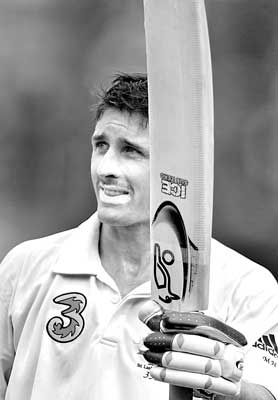 Four Australian stalwarts retired at the end of the last season. Did they fail? No. Now the next generation have raised their bats to be counted.
No Shane Warne, no Glen McGrath, no Justin Langer, no Damian Martyn. So…. Australia will be weakened has been the cry of many desperate opponents in the past nine months. The World Cup came and went, and the loss of Warne, Martin and Langer was not felt. Now after the first test against Sri Lanka, the loss of the great four has been repaired to a great extent.
Warne can never be replaced. But others could chip in and as a group cover up for Warne's loss and to a great extent capture the wickets that were his. The Aussies are so good at doing that. Many teams often find a hole that is difficult to cover when a star departs. Not so with the Aussies. It was a huge blow when Warne in his prime had to depart from South Africa days before the 2003 World Cup, having been tested positive of taking drugs, and it was not just for that month but for one whole year. Ricky Ponting and the team took in their stride and proved that anything was possible during that year.
The Australians are a tough bunch of cricketers to beat. At home, particularly when it comes to test cricket, it is almost impossible. Should any visiting team not be at their very best, they have no chance whatsoever. That was the plight of the Sri Lankans in Brisbane last week.
Three possible chances
They opted to field first but were minus one of their quickest bowlers. Dilhara Fernando being the consistently quickest bowler in the squad would have been choice number one. His form in recent months also puts him in the number one position. Brisbane is a quick bowlers pitch more than a seam bowlers deck. Therefore, my choice number two would have been Lasith Malinga. Then choice number three should have been between Vaas and Mahroof. Young Mahroof is a candidate for the future and his performance in the lead up game against the state team was good and warranting a place in the team. Yet, the experience and the left arm option of Vaas should always be considered. In the end, it was Malinga who had to carry the drinks. Sri Lanka managed to pick up just four wickets in the one innings they bowled in the match. That tells a story.
On day one the fielding let the bowlers down. Three possible chances were grassed. No way can you give top class players another opportunity, another innings. They will grab it with both hands.
What was most significant about the Australian batting was their willingness to wait for scorable deliveries. Phil Jacques is a new man to test cricket. Michael Clarke and Mike Hussey have been around for awhile, but not in the top bracket yet. Further, they were playing test cricket after nearly ten months. In between it has been slap bang fifty over and twenty over cricket. The approach is totally different. Patience plays a major role. It is a waiting game, embroiled in concentration. The three centurions all played this role.
In recent test matches the Australians have looked to score runs quickly. They have attempted to average four runs and over. Here they were more around the three run mark for most part of the innings. The new combination of batsmen had to settle in and this they did. It was only after the three hundred run mark was reached that the acceleration began.
The pitch seemed to have lost its sting when the Australian innings was progressing. In fact early for the 'Gabba' which favors the quick men for at least a couple of days. Not so, when Brett Lee, Mitchel Johnson and Stewart Clark got the leather in their hands, the Sri Lankan Batsmen were made to hop and weave and nudge. It was just that Sri Lanka had only Dilhara Fernando to deliver the snorters, and he too had an off day, in fact two.
Object lesson
Muttiah Murlaitharan tried his utmost. He deceived Jaques and Ponting in the flight and had them stumped. However, Micheal Clarke and Mike Hussey produced an object lesson on playing spin, not just ordinary spin but top quality spin. Using the feet efficiently and effectively and plying the ball off the pitch are the necessities to combat spin. It requires hours and hours of practice.
The Sri Lankan batsmen failed twice. Batsman can be very good on even paced, flat, bounceless pitches. To play on pitches that bounce and pitches that seam, requires experience and practice. Prior to their departure the team practiced much at the SSC side nets, rolled flat, with hardly blade of grass, resembling more like tracks in India than in Australia!
Not the ideal form of preparation. The first innings was a disaster and only some middle order resistance helped them nudge past two hundred. The second innings was somewhat better, thanks largely to Michael Van Dort. By day four the pitch had definitely eased out. Van Dort played a test innings. An Innings of patience and concentration, until McGill spun one through his gate, when he was approaching a three figure score.
In this game, at times when it goes wrong, it all goes wrong. Somewhat like life itself. It tests a players character, his will power to rise from the ashes. Sri Lanka were fairly and squarely beaten in Brisbane. Now can Trevor Bayliss inspire? Can Mahela Jayawardane inspire? They need the leaders and followers to put in one big wholehearted effort to match up to the Australians. It will be an almighty challenge in Hobart.