Tantirimale incident: Heroes praised for thwarting attack
A felicitation ceremony was held at the Tantirimale Rajamaha Vihara premises for the two policemen and all civil security guards who repulsed the LTTE cadres trying to enter the Tantirimale area. The ceremony was chaired by Anuradhapura area Commander Maj. Gen. Sanath Karunaratne, and the Rajamaha Vihara Chief Incumbent Ven. Tantirimale Chandaratana Thera.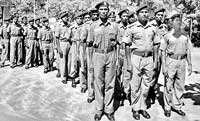 The civil security officers who confronted the Tigers
M. Piyasena (53) of Dematamalgama, Tantirimale who was leading his flock of animals to Randeniyawewa went missing on October 17. A team consisting of Army, Police and civil security officers together with villagers searched the area for the missing man.
A part of the search team of 30 civil security officers led by Inspector S.A.D Anura and Sgt. S. Rajakaruna were confronted at Katupotha by LTTE cadres and fighting ensued. After the LTTE cadres fled to Wilpattu along with their injured, the officers were able to find explosives including a claymore weighing five kilograms, a pen torch and a detonator with wires used by the LTTE cadres.
According to Ven. Tantirimale Chandaratana Thera the Tigers were planning an attack on the village. He said it was thwarted in time by the security forces and added that these heroic acts should be felicitated.
Maj. Gen. Karunaratne said all the people who saved the lives of the villagers could be called true heroes. Anuradhapura OIC SP Macarthy Perera said other threatened villages too were now safe due to the fearless commitment of the Tantirimale villagers. Captain P K Balasuriya of the Army camp and HQI Inspector Dhammika Bandara Hapugoda also received awards at this felicitation.