She served the nation in her own quiet way
Tribute to Elina Jayewardene
Elina Bandara Rupasinghe was born, as the one and only child of the well known planter, entrepreneur and Notary Public, Gilbert Leonard Rupasinghe and Nancy Margret Suriyabandara. The couple while expecting the first baby had visited Italy where they had come across a picturesque and charming location known as Eline and the couple, impressed with its serenity, had decided then and there that their baby would be named after this location. A baby girl was born on December 15, 1913 and she was named Elina.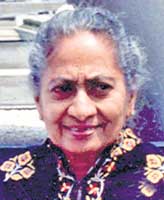 It was the custom in the Kandyan region to add Bandara when naming males, yet in the low country too, among the elite groups, it was customary to add Bandara even to female names. Elina's mother was accordingly known as Nancy Margret Suriya Bandara and the daughter Elina Bandara. Born to an aristocratic family of the day, inheriting enormous wealth and properties, she never left home to attend a school, but was educated in the higher echelons of the society. Her tuition included English, Sinhalese and Pali. It is also known that in addition to the three languages, she studied Accountancy, Stenography and Music.
By 1930 Elina had blossomed into a beautiful young lady. Second to none in beauty and all other aspects of caste, creed, social status and wealth etc., she was sought after by the parents in the highest echelons of society, who wanted to bring Elina to their household, of course along with her fortune. And with sheer determination and enthusiasm, Agnes Jayewardene succeeded in her efforts to become the mother-in-law of Elina.
It is said that Leonard Rupasinghe, Elina's father, in his last will had stipulated certain criteria for the purpose of selecting a bride groom, and young Attorney, Junius Richard, eldest son of Agnes Jayewardene was found to be the most suitable bachelor, and he married Elina on February 28, 1935.
After marriage, the couple settled down in 'Vyjayanthi' in Dharmapala Mawatha, where now stands the Jayewardene Centre. Their one and only child, Ravindra Wimal Jayewardene was born there on April 22 1936. After three years of marriage, they shifted to Ward Place, where they built a new house in the old site of 'Breama'. The property belonged to Elina's father. The name 'Breama' stayed on.
The young lawyer, never left the shelter of 'Breama' throughout his journey to the highest post in the land, to his death,. Madam Jayewardene in her last will has willed to donate this property to the Jayewardene Centre, to be used for public purpose.
She was proud of her husband and the saying goes that she was the unseen strength behind his unmatched success. She never got involved in his political or public life, but always lovingly and faithfully managed the homefront where a tired husband could find love, peace, comfort and solace.
President Jayewardene once looking back on his married life had admitted that Elina's guidance, cooperation and assistance had always been a driving force in his life. President Jayewardene before breathing his last summoned his Secretary and declared that everything after his death should be done according to the wishes of his wife.
A major part of the properties of the Jayewardene family was inherited from her parents and she disposed of them according to her own wishes. Manelwatte in Bollegala, Kelaniya, a prime coconut estate over 40 acres was donated to the Malwatta Maha Vihara while the Dharmashoka Vidyalaya catering to a vast student population in the area was established in a property donated by the Rupasinghe family.
Apart from these, Madam Elina had over one hundred widows on her monthly pay roll. They visited her regularly to receive the monthly donation. Lady Jayewardene always made it an occasion to treat them with sweetmeats and tea.
Once, Lady Jayewardene received a letter from a schoolgirl from the Gampola area. She was the daughter of a poor casual labourer of a nearby estate. The girl had said that she had only one school uniform which was discoloured and worn out. She said that her father had no means to get her another. Lady Jayewardene made arrangements to dispatch material for five uniforms through the government agent of Kandy, S.M. Tennekoon. Having delivered the parcel, he wrote back, enclosing a hand written note of acknowledgement from the student concerned, that hers was a very deserving case as very correctly perceived by Mrs. Jayewardene, the first lady of the country.
Madam Elina Jayewardene was a modest and humble lady, decorous in manner and conduct. She was undoubtedly a true and worthy daughter of Mother Sri Lanka.