Kadir tried to bring peace to a tortured nation says Indian FM
~ Lakshman Kadirgamar Memorial Lecture
Indian Finance Minister P. Chidambaram reiterated India's commitment to the unity, sovereignty and territorial integrity of Sri Lanka and at the same time emphasized that the ethnic conflict in Sri Lanka, arising out of a sense of discrimination and a sense of negation of cultural, linguistic and human rights, should be resolved through a negotiated political settlement that includes a credible devolution of power.
The Indian minister made this remarks while delivering the Lakshman Kadirgamar Memorial Lecture 2007, under the auspices of the Lakshman Kadirgamar Foundation, at the BMICH on November 11. Minister Chidambaram said that peace must be forged at the negotiating table and the peace agreement must win a vote of confidence from the people.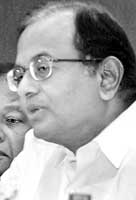 Indian Finance Minister P. Chidambaram
"The continuation of the armed conflict in Sri Lanka will deepen the divisions in Sri Lankan society and will make a negotiated settlement more difficult. It will also have an adverse impact on the economy, evidence of which is already noticed," he said. The minister also spoke about the economic partnership between India and Sri Lanka which could serve as a benchmark for similar partnerships between India and the other countries of South Asia.
"Sri Lanka is India's largest trading partner in South Asia. Bilateral trade between the two countries, at the end of March 2007, stood at US$ 2,726 million. Trade turnover has quadrupled in the last six years. In fact, during the period of six years, Sri Lanka's exports to India have increased ten-fold," he said.He said there was growing interest among Indian investors in emerging sectors such as telecom, energy and infrastructure. Equally, it is a cause of great satisfaction that efforts are being made by Sri Lankan business persons to invest in India, he said.
Minister Chidambaram said four airlines from India operate services to Sri Lanka, even while SriLankan Airlines remains the dominant player operating about 95 flights a week to India and earning nearly 50 per cent of its profits from its Indian operations. It is not a matter of surprise that 21 per cent of all tourist arrivals in Sri Lanka are from India, he added.
Sri Lanka and India are working together towards greater development cooperation especially in the area of infrastructure. Indian companies have undertaken several projects in Sri Lanka including refurbishment of the Southern Railway corridor, he said.
The success of the Free Trade Agreement has encouraged the two countries to begin negotiations on a Comprehensive Economic Partnership Agreement that will expand cooperation beyond trade and goods. I am happy to note that the negotiations are at an advanced stage and it is likely that a draft agreement could be reached very soon, the Indian minister said.
For South Asia, growth is an imperative and the challenges that face South Asia are enormous, the minister said adding the answer to these challenges is faster and more inclusive growth."What compounds these challenges is the shadow of political uncertainty that has fallen over most of the sub-continent. It appears to me that the countries of South Asia, barring India, have still not resolved the fundamental question of the model of governance that is suited to each of them; consequently, the political institutions in these countries have not yet taken firm roots," he added.
While change is unavoidable and there can be no quarrel with occasional experimentation, a state of constant flux or political turbulence is hardly conducive to rapid economic growth, he said. Minister Chidambaram said that India is conscious of its role and responsibility in South Asia.
"Given its size, location and rate of growth, India is at the very centre - in many senses of the word - of the region. According to one view, India is a connecting thread. India's desire is that all its neighbours - as well as India - should seize the opportunity of becoming prosperous countries in a prosperous region," he said.
The Minister also said that India regarded the late Foreign Minister Lakshman Kadirgamar as a statesman who devoted many years of his life - especially his years as foreign minister - to bring peace to this tortured nation. Under the most adverse conditions, he carried out his duties as a public servant in the manner that he played cricket.
And how did he play cricket? To recall his words, "I played without helmet and thigh guards, on matting wickets that were full of holes and stones, and I had my share of broken bones to show for it." None could break his spirit as a cricketer and none could break his spirit as a public servant imbued with the high ideals of a statesman, he said.
In her address Mrs.Sugandhi Kadirgamar said it was an honour and a privilege to have Minister Chidambaram make a special visit to Colombo to deliver the Lakshman Kadirgamar Memorial Lecture 2007."Lakshman was a patriot who dearly loved his Motherland and as you all know, made the supreme sacrifice by laying down his life for the sovereignty, territorial integrity and unity of Sri Lanka and her peoples," she said.
Mrs.Kadirgamar said the late Foreign Minister had a special affection and bond with India, her leaders and her people, valuing the friendship of centuries between us. "I know only too well, that India always recognized his genuine affection and reciprocated it in equal measure. That point was demonstrated emphatically, when both the Hon. Minster of Foreign Affairs and the Hon. Minister of Defence of the Government of India flew to Colombo by special flight to pay their last respects at the bier following Lakshman's assassination in August 2005," she added.
Mrs.Kadirgamar said the late Minister's ideals of nationalism was never parochial and he epitomized the best of a multi-religious, multi- ethnic, multi-cultural personality which is the true character of our island society."His vision for respecting diversity remained at the core of his personal character," she added.
"An independent, bipartisan, Institute of Strategic Studies for Sri Lanka on the lines of similar institutes around the world was one of those ideas. He realized the importance of a 'think tank' where academics, foreign policy experts, diplomats, military strategists, economists, environmentalists, professionals from varied fields of learning and practice – thinkers like him – could study global patterns, monitor developments and provide detailed analysis while predicting future currents," she said.
His vision for the country's foreign policy was blended with cooperation, mutual understanding and respect where Sri Lanka maintained its dignity and independence as an equal partner in the international community. While he had this long term vision for developing a modern and efficient foreign office cadre, the ground work for our foreign policy development, managerial skills and vision plans were to be developed at the Institute.
She also thanked the President and his Cabinet of Ministers for re-naming the Sri Lanka Institute for International Relations to establish the Lakshman Kadirgamar Institute for International Relations and Strategic Studies by an Act of Parliament. The Institute thus established after Lakshman's own name, is a reward he rightly deserves.