Elina Jayewardene passes away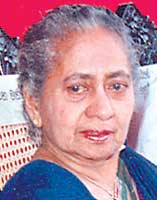 Ms. Jayewardene
Elina. Jayewardene, widow of former President J.R. Jayewardene, passed away yesterday morning at the age of ninety-four. Elina Jayawardene, born on December 15, 1913, was the only child of late Mr. and Mrs. G.L Rupasinghe and beloved mother of Ravi Jayewardene.
She got married to Junius Richard Jayewardene on February 28, 1935 and led a quiet life after the death of her husband.
Ms. Jayewardene, well known for her social work, was the founder of the 'Seva Vanitha' Movement, which, with its island-wide network, helps women. When The Sunday Times interviewed her a few years ago, Ms. Jayewardene said although she enjoyed living with many memories of her husband, she missed the life spent with him.
The cremation is to be held at 6 p.m. today at the General Cemetery, Borella. Cortege will leave the residence at Ward Place at 5 p.m.