Behave or be banned, LTTE to be told
A move to proscribe the Liberation Tigers of Tamil Eelam is on the cards but there is no unanimity within the ruling alliance with the SLFP giving conditional approval and left and minority parties opposing it. The SLFP Parliamentary group on Wednesday approved a proposal to proscribe the LTTE if the movement continued its terrorist activities.Senior Presidential advisor and parliamentarian Basil Rajapaksa said that although some SLFP MPs expressed reservations on the grounds that a proscription would complicate the peace process, the proposal was backed by a majority.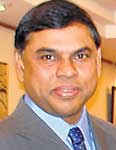 Basil Rajapaksa
"How soon the proscription will come will depend on how the LTTE operates in the coming weeks. If the LTTE continues with its terrorist activities, then the ban will come. The ball is now in the LTTE's court," Rajapaksa said.
But coalition partners, the CWC, the SLMC, the UPF and the CP, have opposed the ban saying that the move would be counterproductive and an obstacle to future peace talks.
Communist Party frontliner and Minister D.E.W. Gunasekera said that proscribing the LTTE would only strengthen the rebels and therefore would be counterproductive, while Up Country People's Front member P. Radhakrishnan said such a move would close the door to a negotiated settlement.The division within the ruling alliance over the proscription proposal comes amidst calls by the JVP and the JHU – two parties on which the government depends heavily for its survival -- to ban the LTTE.
But Mr. Rajapaksa said the SLFP's decision was not to appease any party but to deal with the threat of terrorism. "We have many emergency regulations in place to deal with terrorism and if this comes, it will also be one of them," he said. The LTTE has been banned in several countries including India, the USA, Britain, Canada and the European Union countries.
The United States went a step further on Thursday by banning the LTTE's fund raising front organisation, the Tamil Rehabilitation Organisation (TRO), the first foreign country to take action against an LTTE front group. Foreign Minister Rohitha Bogollagama who on Friday thanked the US administration while addressing parliament hinted that the Government was considering a ban on the LTTE and the TRO.
The remarks came in response to a query raised by JVP parliamentary group leader Wimal Weerawansa. TRO funds have been frozen by the Central Bank since last year in Sri Lanka but the organisation has not been banned as yet. The proscription issue is to figure at today's scheduled government group meeting ahead of Monday's crucial vote on the budget in Parliament.
The LTTE was proscribed in Sri Lanka 1998 following an attack on the Dalada Maligawa. The ban was lifted in early September 2002 ahead of the first round of talks between the Government and the LTTE in Thailand later that month. India banned the LTTE following the assassination of former Prime Minister Rajiv Gandhi in 1991.