Emergency to continue for now, Musharraf tells US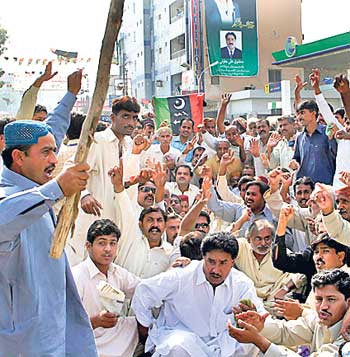 Supporters of opposition leader Benazir Bhutto protest against emergency rule in her home town of Larkana, 480 km (300 miles) north of Karachi. REUTERS
ISLAMABAD, Saturday (AFP)- Pakistan's Pervez Musharraf told a top US diplomat today that he would only end his emergency rule when the security situation improves, a senior presidential aide told AFP.
Musharraf met John Negroponte, number two in the US State Department, for talks which diplomats had said the US official would use to deliver a "very strong message" to end the two-week old state of emergency.
The meeting came a day after Negroponte spoke by telephone with Pakistani opposition leader Benazir Bhutto, who has scrapped power-sharing talks with Musharraf and called on him to quit.
"President Musharraf made it clear to the visiting US envoy that the emergency can only be lifted once the situation regarding law and order improves," Musharraf's aide told AFP.
"He told the envoy that the emergency is meant to reinforce and strengthen the law enforcement apparatus in the fight against militancy and extremism,"the aide added.
State media said they had discussed the political crisis as well as the fight against Islamic extremism.
Negroponte, the most senior US official to visit Pakistan since Musharraf imposed emergency rule, flew to Islamabad amid growing US concern over the crisis in its key ally in the "war on terror."He also met General Ashfaq Kiyani, Pakistan's deputy army chief of staff under Musharraf and his hand-picked successor if he hangs up his uniform as promised.
Western diplomats said Negroponte would urge the military ruler to end emergency "right away," quit the army, hold elections on time, lift curbs on the media and release political prisoners.
"It's a very strong message. He's going to tell him what the reality and facts are" in Washington, a diplomatic source told AFP before the talks.That would include the message that the United States is reviewing all its assistance to Pakistan, including military aid.
Washington has spent around 10 billion dollars on aid to Pakistan, much of it to the military, since 2001.But the Pakistani leader, who seized power in a coup in 1999, said he also had a message to pass on, in an interview with the Washington Post."I am the strongest believer in democracy. I brought democracy to Pakistan and I still believe in it," he said.
"I will tell Negroponte and the US that Pakistan comes first and there are certain realities on the ground -- extremism and terrorism -- that made me decide to go with emergency law."After arriving here late Friday, Negroponte spoke by phone with former premier Bhutto, who was freed from house arrest hours earlier, as well as with Musharraf's national security adviser, Tareq Aziz.
The Pakistani leader has vowed elections by January 9, but indicated they will be held under emergency rule, angering the opposition who say it will render the vote a sham.Bhutto dismissed Musharraf's caretaker government, sworn in Friday and led by his close ally Mohammedmian Soomro, as "unacceptable."She is in talks with other opposition leaders to build a united front that could involve boycotting the elections.Washington had been pushing a power-sharing deal between her and Musharraf as a pro-Western bulwark against extremism.
In a separate development, the army announced it would launch a major operation "any time from now" to clear militants loyal to a pro-Taliban cleric from the scenic Swat Valley in the northwest.
Major General Ahmed Shuja Pasha, the army's director general of military operations, said five days of clashes, which have reportedly left 100 militants dead, were only a prelude to the impending large-scale offensive.Meanwhile authorities moved to shut down two of Pakistan's biggest private TV news channels, Geo and ARYOne, which had been broadcasting by satellite out of Dubai.
After the shutdown, Geo showed a continuous animated loop of its blue and orange logo being tossed about on a stormy sea, with the words "Please inform them" flashing up.