Winds of terror hit B'desh
~ Cyclone leaves 1,700 dead, millions homeless; toll increasing, say officials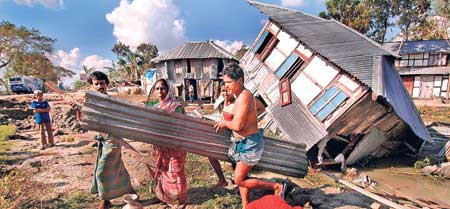 Cyclone affected villagers carry corrugated iron sheeting to repair their damaged house in Potuakhali, 152 kilometers (95 miles) south of Bangladesh's capital yesterday. AP
DHAKA, Saturday (AFP) - Thousands of people are believed dead and millions are homeless and destitute after the worst cyclone in years tore through impoverished Bangladesh, officials said Saturday.
More than 1,723 people were confirmed to have died and the number was rising by the hour as soldiers and relief workers battled to reach the worst-hit coastal districts that were smashed late Thursday as cyclone Sidr roared in from the Bay of Bengal."We are expecting that thousands of bodies may be found within a few days," the deputy head of the government's disaster management office, Shekhar Chandra Das, told AFP in the capital Dhaka.
"We have not been able to collect information about casualties in many remote and impassable places due to the disruption to communications," he said.
In most areas telephone lines are down and roads blocked. Countless villages have also been blown from the face of the earth.
"The number of deaths so far is 1,723 and it is increasing," said Major Emdadul Islam of the armed forces control room.
In one village, residents told AFP more than 100 people had died when the area was engulfed by a tidal surge pulled in by the colossal storm.
"A 20-foot (six-metre) wall of water wrecked the village of Charkhali and 30 more people are still missing," said local government official K.M. Abdul Wadud.
"The wind and the tidal surge were so strong that it churned up four kilometres (2.5 miles) of a tarmac road," added resident Anowar Hossen Khan.
The dead were being buried in a mass grave, villagers said.
Millions more were also said to be homeless.
"Village after village has been shattered," said administrator Hariprasad Pal. "Millions of people are living out in the open and relief is reaching less than one percent of the people."
Residents in southern districts near the coast bore the full brunt of the storm and told AFP of their terror as they were hit by wind speeds of up to 240 kilometres (155 miles) an hour, huge waves and suffocating rain.Fulmala Begum, 40, said she was not warned to evacuate and had to take refuge under a bed with her husband and two children as the storm roared around her.
"Five hours later we found ourselves under a heap of tin roofs and two huge trees. Not a single house in my village was spared the catastrophe," said the woman, lucky to be alive but totally destitute.
"I have never seen such a terrible scene. It was like hell. I saw dozens of tin roofs flying into the air. Whole houses too," added local businessman Manik Roy, 50.
A district official said disaster-prone Bangladesh has suffered another "great human tragedy," adding that in Jhalokati district, 140 kilometres south of the capital Dhaka, every one of its 554 villages had been hit.
Jhalokati and the coastal district of Barguna, further to the south and on the edge of the vast Sunderbans mangrove forest -- the natural habitat of the endangered Royal Bengal tiger -- were among the worst affected areas.
"All the tin-built houses were blown away. Every household in the district has been affected," said deputy commissioner K.M. Rahatul Islam.