$100 oil shock and beyond
Run-up in prices raises questions about longer-term crude supplies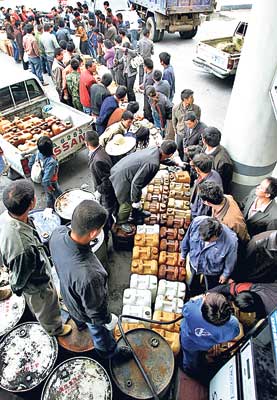 People line up to buy diesel fuel at a gas station in Hangzhou in east China's Zhejiang province in this Oct. 29, 2007 file photo.
TAIPEI, Taiwan (AP) - Perhaps the biggest reason that oil costs nearly US$100 a barrel can be found in places like China, where roads that were full of bicycles 15 years ago are now choking with cars and trucks. Or in India, where sales of diesel-powered generators have soared as people try to avoid frequent power outages.
The rapid growth in China, India and other emerging economies has been fed by crude oil, but this rising demand for fossil fuels may finally be pushing the limits of supply. If basic economics is any guide, that could also mean US$100 is just the beginning of far higher prices.
The International Energy Agency warned earlier this month that growing global demand, particularly from China and India, could create a supply crunch as early as 2015. Currently, oil producers are turning out about 85 million barrels a day, while the U.S. Department of Energy says consumption is between 85 million and 86 million barrels a day.
The department predicts output will reach 118 million barrels by 2030.
Some experts see a potential disaster looming -- in as soon as five years or even less. Chris Skrebowski, the editor of the London-based Petroleum Review, thinks slower-than-expected supply growth combined with rising demand from burgeoning Asian economies could result in a worldwide shortfall of as much as 7 million barrels a day by 2013.
Demand is so strong that Matthew Simmons, a Houston oil and gas investment banker, says US$100 a barrel oil may even be a bargain, with US$300 crude likely in the future.
"I think oil prices are unbelievably inexpensive," said Simmons, the author of "Twilight in the Desert: The Coming Saudi Oil Shock and the World Economy," a widely debated book suggesting that the world's largest oil exporter will be hard pressed to maintain its crude output, let alone increase it. From the oil industry too there are voices of concern. For example, Christophe de Margerie, the CEO of Total SA, France's largest oil company, believes the Department of Energy's global production forecast is far too high.
"One hundred million barrels ... is now in my view an optimistic case," de Margerie said at an industry conference in London late last month. "It is not (just) my view, it is the industry view, it is the view of people who like to speak clearly, honestly and not ... just to please people."
Over time, soaring energy costs could have disastrous consequences for the world economy, with affordable transportation being the most obvious casualty. Manufacturing, petrochemicals and power generation would all be affected.
But some analysts argue that consumption growth will slow if limited supply keeps prices high. Recent evidence suggests that prices of US$80 a barrel have already begun to put a crimp in consumption in industrialized countries, said Leo Drollas, chief economist at the London-based Center for Global Energy Studies.
He projects annual consumption growth of 1.2 percent to about 93 million barrels a day in 2015. That growth figure is lower than in many existing forecasts.
Oil prices surged to a record US$98.62 a barrel last week and hovered just below US$94 in Asian trading Wednesday.
"Demand will not grow at those prices," Drollas said of oil at current, let alone higher dollar levels.
Drollas' view appeared to get a boost on Tuesday when the IEA lowered its oil demand forecast for the fourth quarter by 500,000 barrels a day and for 2008 by 300,000 barrels a day. Demand growth will now average 1.2 percent in 2007, the group said.
However, it said demand will likely grow 2.3 percent in 2008, keeping consumption close to global supply.
So far, subsidies in China and India have blunted the impact of high prices on their consumers. But state-run oil refineries are feeling the pinch, and China recently raised retail gasoline prices about 10 percent.
And if anecdotal evidence is right, that could indeed affect demand.
"If the gasoline price jumps another 50 percent, I'll quit driving and take public transportation," said Zhou Zhiqiang, a Beijing driver. "I think it is the trend for oil price is to go up. The international oil price will ultimately surpass US$100, because the resource will become scarcer and scarcer."
Looking at planned oil field developments, Skrebowski, the London-based oil expert, calculates that 23.6 million barrels a day of new production will come onto the market by 2013 - and that only if projects are completed on schedule, despite growing shortages of equipment and qualified personnel.
But the former long-term planner for energy giant BP PLC and oil analyst for Saudi Arabia believes that new production will be largely offset by the natural depletion of existing fields totaling 20 million barrels a day. The net gain, then, would be only about 3.5 million barrels over the five-year period, raising daily production to 88.5 million barrels.
Against that, Skrebowski says IEA demand projections would raise consumption to 96 million barrels by 2013, more than 7 million barrels short of his production estimate. "After 2011 we could be in for serious trouble," he said.