More than just a punch!
~ Challenging gender barriers, teen girls in Afghanistan enter the boxing ring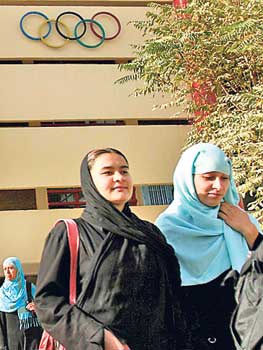 Afghan girls after their boxing training leave the gym once again in their traditional attire and head back to their homes to finish their chores in the kitchen at their homes in Kabul.
KABUL, Afghanistan (AP) - A group of teenage girls is taking up fisticuffs to challenge Afghanistan's gender barriers.
"Move, move, move," coach Saber Sharifi shouted as the 20-odd girls sparred recently. "Steady, watch your left shoulder."
The boxers belong to a new generation of Afghan youth, challenging stereotypes that persist five years after the fall of the Taliban. They train in a room in Kabul's main sports stadium, a venue for public executions during Taliban rule in the late 1990s. Boxing is helping them gain confidence and self-respect, the girls say. Their goal: to be Afghanistan's first women's boxing team.
"Many people are trying to stop us from participating in sports by saying it is not good for women," said 15-year-old Shabnam, who uses only one name. "But I think if you are interested in doing something, you should avoid listening to what people think about you. Sports is a way out of violence for Afghanistan."
The girls - who also include Shabnam's sisters, Fatima, 17 and Sadaf, 14 - practice separately from boys and wear warm-up suits. Some cover their heads with scarves or bandanas.
Their effort is a brave one in this male-dominated country, where females start wearing the powder blue burqa, which covers them from head to toe, in public at puberty.
"The neighbors do not know about the girls' training yet, but we fully support them," their mother, Salima Rahimi, said.
The family saw a women's boxing match on TV one evening, she said. "I want to become like Laila Ali," Shabnam shouted, referring to boxing great Muhammad Ali's daughter. "I want to become the world's female boxing champion."
The girls practice three times a week, and Sharifi wants to hold matches by year-end. He has seen "tremendous improvement" in their skills, he said, but hopes for better equipment such as headgear, mouth protectors and quality gloves.
"If the international community is serious about helping Afghanistan transform itself, then here is the chance for someone to come forward and help these girls realize their dreams," he said. "We need to visit other teams and have other teams visit us, because if they don't get enough exposure and matches, then no amount of training in this gym is going to help.
"We don't even have a boxing ring yet," he said.