Myanmar junta chief vows to pursue democracy 'road map'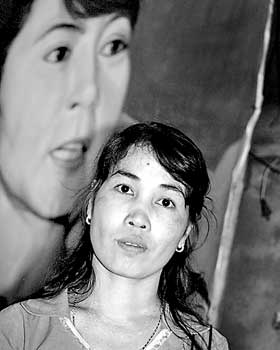 Prominent labour activist Su Su Nwe poses under the portrait of her role model, democracy icon Aung San Suu Kyi, at the National League for Democracy party headquarters in Yangon.REUTERS
YANGON, Saturday (AFP) - Myanmar's junta chief Than Shwe has vowed in his first public speech since the regime's bloody crackdown on protests to go ahead with the country's "road map" to democracy, state media said today.
Senior General Than Shwe also said the military had "always safeguarded the country" against any danger to the national interest, the official New Light of Myanmar newspaper quoted him as saying in an address Friday.
It was his first public speech, delivered to a pro-junta civil group, since the deadly crackdown on protests in Yangon in late September.
The crackdown sparked global outrage and led the United States and the European Union to tighten sanctions against the regime.
Under the junta's "road map" to democracy, Myanmar will adopt a constitution in a referendum, which, in theory, would eventually lead to free elections in a country which has been ruled by the military since 1962.
In his speech Than Shwe said the "road map" was "the only means to smooth transition towards a new state," the paper said.
In early September, the junta ended 14 years of talks to draft guidelines for a new constitution.
But the US, EU and the UN have dismissed the lengthy proceedings as a sham due to the absence of detained pro-democracy leader Aung San Suu Kyi's political party.
The military has not laid out a timeline for elections, and analysts have said the new charter would only serve to formalise the junta's role in government.
The crackdown ended protests which began in August over a sudden hike in fuel prices and snowballed into the biggest anti-government demonstrations in nearly 20 years.
Although Than Shwe did not mention the protests in his speech, he said there had been nationwide pro-junta rallies "denouncing destructive acts that hamper the peace and stability and development of the state".
The military government has said that 10 people were killed and about 3,000 detained in the crackdown, but diplomats and rights groups put both figures far higher.
A UN rights investigator, who ended a five-day mission to Myanmar on Thursday, said Friday the junta told him that 14 people had been killed during the violent suppression, besides a Japanese jounalist who was shot dead.
During his mission, Paulo Sergio Pinheiro twice visited Myanmar's notorious Insein prison, where rights groups have said abuse and torture are rampant.
Pinheiro was not permitted to meet with Aung San Suu Kyi, who has spent 12 of the last 18 years under house arrest in Yangon.