Impact of global warming potentially irreversible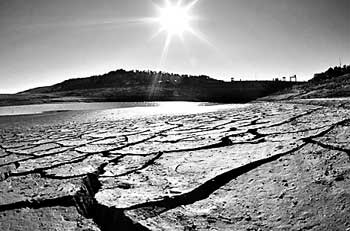 The UN's Nobel-winning panel on climate change said the consequences of global warming could be far-reaching and irreversible. AFP
VALENCIA, Spain, Saturday (AFP) - The world's top scientific authority on climate change was set to adopt a landmark report today that warns that the impacts of global warming are already visible, will accelerate this century and are potentially irreversible.
The document crafted by the UN's Intergovernmental Panel on Climate Change (IPCC) summarises the first overview on the greenhouse-gas effect since 2001.
It is styled as a guide for politicians facing tough decisions on cutting pollution from fossil fuels, shifting to cleaner energy and bolstering defences against drought, flood, storms and other problems set to intensify through climate change.
The IPCC was to adopt a 20-page "summary for policymakers" and a 70-page technical document, and follow this with a press conference attended by UN chief Ban Ki-moon, who warned Saturday the world is on the verge of a "catastrophe" due to global warming.
The report encapsulates three phonebook-sized assessments, issued earlier this year, that effectively consigns once-powerful "climate sceptics" to a small and shrinking minority.
The IPCC says the evidence of a human role in observed warming is now "unequivocal."Retreating glaciers and snow loss in alpine regions, thinning Arctic summer sea ice and thawing permafrost show that climate change is already on the march, it says.By 2100, global average surface temperatures could rise by between 1.1 C (1.98 F) and 6.4 C (11.52 F) compared to 1980-99 levels, while sea levels will rise by between 18 and 59 centimetres (7.2 and 23.2 inches), it forecasts.
Heatwaves, rainstorms, water stress, tropical cyclones and surges in sea level are among the events expected to become more frequent, more widespread and/or more intense this century.
"All countries" will be affected but poorer countries -- ironically those least to blame for causing the problem -- will be hit hardest and they have the least resources for coping, according to a draft of the new report.
Publication of the synthesis comes in the runup to a conference in Bali, Indonesia, where the world's nations will gather to ponder the climate crisis.
The December 3-14 conference of the UN Framework Convention on Climate Change (UNFCCC) is tasked with setting a "roadmap" of negotiations for intensifying cuts in carbon emissions beyond 2012, when the Kyoto Protocol runs out.
Carbon pollution, emitted especially by the burning of oil, gas and coal, traps heat from the Sun, thus warming the Earth's surface and inflicting changes to weather systems.
Emissions are spiralling, driven more recently by coal-fired plants in fast-growing China and India.
In its present form, Kyoto will not even make a dent in this threat.
In a commentary published in the International Herald Tribune on Saturday Ban called for urgent action on global warming, writing "I believe we are on the verge of a catastrophe if we do not act....
"I am not scare-mongering. But I believe we are nearing a tipping point,"wrote the UN chief.
But he characterised the report's conclusions as "encouraging."
"The over-arching message: we can beat this. There are real and affordable ways to deal with climate change," wrote Ban.