Garment industry transforming into a fashion industry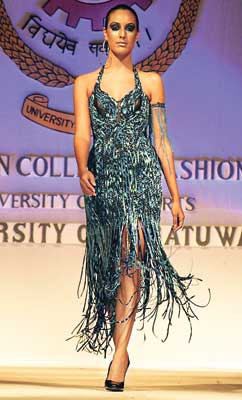 After decades of assembling garments together, Sri Lanka's ready made garment industry is trying to transform itself into a 'fashion' industry.
On Wednesday, Moratuwa University's design graduates showcased their creativity at a fashion show at the Galle Face Hotel. This is the third group of students passing out from the university's Fashion Design degree course that was started in 2001 in collaboration with the London College of Fashion and supported by the Sri Lankan government.
This is also part of the garment industry's plan to transform itself into a 'fashion' industry.
For nearly three decades local garment manufacturers were perfectly content assembling garments for export, based on designs provided by foreign buyers. But now, Sri Lankan garment companies want a bigger part of the business. The industry is trying to lift itself above the cut-and-sew platform on to a 'total solutions provider' position that includes providing in-house design services.
"Earlier we concentrated on manufacturing. But now the industry demands much more. Now manufacturing has become only a small part of the process," said Professor Lakdas Fernando, Chairman of the Sri Lanka Apparel Institute, at a press conference on Monday.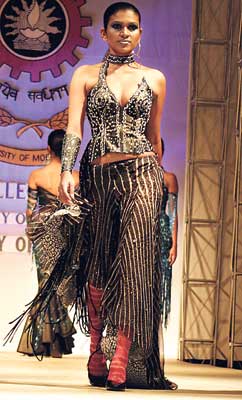 The garment industry's move towards greater value added services is, for the most part, driven by necessity. Many other countries in the region are showing greater cost competitiveness in garment manufacturing. As a result Sri Lankan companies are now forced to come up with alternative product offerings to stay in business.
"Today the garment industry is buyer driven. Buyers can go to the cheapest destination, which Sri Lanka no longer is. We can't beat countries like China on price. So we need something else. Design is something that we can use. If Sri Lanka can come up with innovative designs, we don't have to compete on cost," explained Dr Nirmali de Silva, the Course Director of the Fashion Design degree at the University of Moratuwa.
At this point, Sri Lanka is not talking haute couture but design at a very practical, commercial level.
"The course and the students have a very strong industry focus. They know who they are designing for," said Roy Peach, Dean of the post graduate portfolio at the London College of Fashion speaking at the press conference.
Given the industry focus, the design course is not only about creativity and designing clothes. The course includes hard, business aspects as well. Students are taught about the supply chain process, merchandising and other areas to do with the business of manufacturing apparel for export. To provide maximum real world exposure, a one-year industry placement is part of the four-year course.
"The course is fully integrated into the industry and these graduates have the knowledge about how the entire merchandising and supply chain process works," said Peach.
The idea is to support the garment industry by supplying a continuous flow of personnel trained in garment industry needs.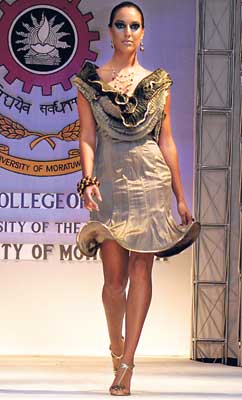 Industry experts say that in-house design talent will give local garment manufacturers an advantage.
"International brands would always have their own design teams but having design facilities in the manufacturing process speeds up the process. Having designers would help Sri Lankan companies because it helps the interpretation process," said Jane Shepherdson, a UK based fashion industry consultant.
Companies have already started investing in local design talent. Design graduates are being snapped up by larger companies that are offering starting salaries in the range of Rs 30,000 to Rs 40,000 per month.
"We employed a design graduate and she was absolutely great. She created a fantastic collection for us. Unfortunately she was so good that she left me and now works abroad," said Kumar Mirchandani, Managing Director of the Favourite Group.
Given the demand, the Moratuwa University says it will continue producing high quality design graduates for the local garment industry.
Building a domestic talent pool of designers is expected to help the garment industry retain its competitive advantage and to develop a Sri Lankan fashion industry.
Garments without Guilt
While investing is upgrading its services, the garment industry is also promoting itself internationally as an ethical manufacturing destination. This is expected to help retain customers in the west, despite the increasing production costs in Sri Lanka.
"Environmental issues and social issues are becoming very important in the west. Consumers in the west are demanding greater environmental sustainability, like what kind of dyes are used in clothing manufacturing so as not to harm the environment and social issues like paying fair wages to workers," explained Shepherdson.
The local garment industry is trying to align itself with these consumer trends.
"What we are saying with Garments without Guilt, is that if you were to buy clothing made in Sri Lanka you are buying clothing that is made in an ethical way," said Mirchandani.The garment industry has also developed an auditing scheme by the same name that allows local garment companies to certify themselves on the industry's ethical standards.