From Poland with Love
Celebrating 50 years of diplomatic relations between Sri Lanka and Poland, Sri Lankan filmgoers would have the rare opportunity to experience a set of beautiful Polish films from August 29 to 30 at Elphinstone theatre, Maradana organised by the Consul General of Poland in Sri Lanka, the Embassy of Poland in India and Sri Lankan- Poland Business Council and Winson Film.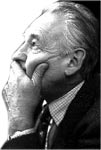 Director Wajda
The festival with four films titled 'Glimpses of Poland' will have films of Oscar's lifetime achievement awarded filmmaker Andrzie Wajda's famous 'The Orchestra Conductor'. Directed in 1980, three times Academy nominated director portrays Poland in the guise of the orchestra. What really attracted Wajda about orchestra was its quality for a social organism in miniature, ideally suited to convey all sorts of metaphors pertaining to society, its organisation, and human inter-relations in general.
Born on March 6th, 1926, at the age of 16 Wajda fought with the resistance movement against German occupation of Poland. After the war he studied painting at the Academy of Fine Arts in Krakow. But in 1950 he gave up t studies and became a student of the second standard at the famous Leon Schiller State Theatre and Film School in Lodz. Graduating in 1953 and one year later he made his debut in cinema presenting a film "A Generation". When relaxation of communist ideological restrictions took place Wajda could flourish with his movies: "Kanal", "Ash and Diamond" and "Lotna" which created a new stream in cinema recognised as the "Polish school".
During the period 1970-1981 Andrzej Wajda made 11 films which built his reputation not only in Poland but also abroad. Three of them were nominated for Academy Awards. Finally in 2000 Wajda received the Oscar for a whole life achievement in cinema.
Steven Spielberg wrote in his letter to the Academy about Wajda "He is one of the most respected and revered filmmakers of our time, a symbol of courage and for exceptional distinction in the making of motion pictures - although his films have received critical accolades since mid-fifties - they also have inspired audiences around the world, giving them an artist's view of history, democracy and freedom." And being awarded with the Oscar, Wajda said: "For sure, the Academy did not know that I was going to start only now".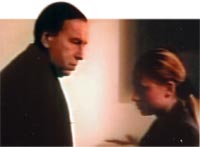 A scene from the movie
In 1980, in the year of Conductor's premiere, lngmar Bergman - the world cinema personality - wrote to Wajda: "Dear friend, we have just seen your masterpiece 'The Orchestra Conductor' and we can not wait to tell you how grateful, deeply moved and happy we all are".
The other film features in the festival is 'The Revenge'. Directed in 2002, the film is based on a perennially popular stage farce by the great Polish playwright and poet Alelcsander Fredro. Raptuosiewicz (Janusz Gajos) resides in one half of a castle with the other half inhabited by his hated rival Regent Milezek (Andrzej Seweryn). Raptusiewicz wishes to marry Podstolina (Katarzyna Figura), the widow of the Lord High Steward, for her money, while Podstolina herself seeks a wealthy match. Regent M wish, on the other hand, is to bring about the union of his son Waclaw (Rafal Krollkowskl) with Podstolina. To complicate matters more, Waclaw is in love with Kiara (Agate Buzek) - ward and niece of Raptusiewicz, who took her in following the death of her parents - and feeling is mutual. The plot thickens when Kiara turns into Papkin's (Boman Polanskl) declared object of love.
Written in a sharp, ironic style, The Revenge portrays those national characteristics that in time brought on many of Poland's national tragedies. Written for the stage, Wajda has changed very little and transferred practically the entirety of the work to the screen. The festival also features, Jerzy Stuhr, a director who had cooperated with Waijda and other Polish legends like Agnieszka Holland and Krzysztof Zanussi.
Jerzy Stuhr is one of the most popular and versatile Polish actors who also excelled as a screenplay writer, film director and drama professor. He serves as the Rector of the Ludwik So Academy for the Dramatic Ads in Krakow. Having obtained a degree in Polish literature from the Jagiellonian University in 1970, Stuhr spent the next two years studying acting at the Academy for the Dramatic Arts in Krakow, where he became a professor.
In 1985, Stuhr made his own directing debut staging the Polish version of Patrick Suskind's play The Double Bass, in which he also played the (only) role. In spite of the production's success, it was not until 1995 that Stuhr began directing films as well, with "List of Adulteresses" (Spis cudzoloznic) based on a novel by Jerzy Pilch. Critics favourably compared his next effort "Love Stories" (Historie milosne, 1997) to Kieslowski's work.
Four stories of love: yearned-for, betrayed, found. In the confessional, a priest is confronted for the first time by his eleven-year-old daughter (and seeks advice from his mother); a married colonel in the Polish Army is reunited with an old lover; a convict is jilted by his wife but has the last word; a professor of literature must decide how to react to a lackluster student who declares she is in love with him. Sometimes things go wrong, occasionally right. (The colonel flushes love letters down a toilet, rather than burn them.) In each vignette, the protagonist is played by Jerzy Stuhr, who also wrote and directed this film.
"In the Desert and the Wilderness" (Childrens film) directed by Gavin Hood is another film that is to be screened at the Poland Film Festival. Gavin Hood, a South African born director is a writer, producer and director, best known for winning the Academy Award for Foreign Language Film at the 78th Academy Awards for the 2005 film 'Tsotsi'.
He directed his first commercial short film, The Storekeeper, in 1998, which earned him his first Academy Award nomination. His first feature film, A Reasonable Man, followed in 1999. Hood then went on to direct the Polish language 2001 feature film 'In Desert and Wilderness' (Wpustyni i w puszczy) when the original director fell ill. This was followed by Tsotsi in 2005.
The film, based on a novel by Polish Nobel Prize winner Henryk Sienkiewicz (1905), tells the story of two children - a 14 years old Polish boy Stas Tarkowski and an eight year old English girl Net Rawilson raped by an Arabian leader Mahdi during their stay with their fathers - engineers in construction work on the Suez Canal in Africa. The fathers organise the chase but it proves extremely difficult due to the war conditions in the continent.
The children, abandoned to their own fate, wander across wild Africa with their black friend- Kali and Mea. The festival is organized by 'Vincent Films' film distribution company headed by well-known film and teledrama producer. Ranjith Perera is famous for its organization of film festivals specially European. Entrance free on first come first served basis. August 29- 3.30 pm 'In the Desert and the Wilderness'- 6.30 pm-'The Orchestra Conductor'. August 30 3.30 pm "The Revenge" - 6.30 pm "Love Stories"