Susanthika thrilled with super fast track
Channaka de Silva reporting from Osaka, Japan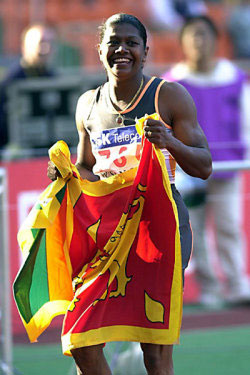 Susanthika Jayasinghe was in a confident mood after learning the about the super fast track at the Nagai stadium here in Osaka and she was aiming for a personal best and more glory to Sri Lanka. Sri Lanka's lone athlete at the 11th World athletics championships said that even the extremely hot weather, which is a blessing for tropical athletes, would help her quest.
"I was close to my personal best at the Asian championships when I clocked 11.19 to win the gold, and I am confident of doing much better because I had a pretty good training session in the US" the 31-year old sprinter who arrived in Osaka straight from Los Angeles where she underwent training for a month said last morning after her training session.
Jayasinghe who has a personal best timing of 11.04 in the 100 metres, would start her challenge today in the first heat of the women's 100 metres at 8.10 a.m. Sri Lanka time. Jayasinghe has been drawn to run in lane four in the heat which features two runners who have posted better times than her this season.Jayasinghe's seasonal best is her Asian championship timing, while Belgium's Kim Gavaert who would run in lane one in the first heat has clocked 11.13 this season while American Carmelita Jeter who is drawn for lane eight has clocked 11.05 this season.
Interestingly, drawn alongside Jayasinghe in her heat would be 47-year old veteran sprinter Merlene Ottey, the former Jamaican runner who has won 34 major championship medals including 14 world championship medals. Ottey who has now settled down in Slovenia is still the national champion of her adopted country and has a seasonal best of 11.56, though it is far below her personal best of 10.74. However, she would not be a serious contender.
The hottest prospect for the 100 metres gold, Jamaica's Veronica Campbell, one of the two runners this season to have gone faster than 11 seconds would take the field in the second heat that is scheduled to start seven minutes after the first heat.Campbell who has clocked this year's fastest time of 10.89 would be challenged by several Americans including the defending world champion Lauryn Williams who would run in heat seven with a seasonal best of 11.11 and Torri Edwards, the only other woman to dip below 11 seconds this season at a personal best of 10.90. Edwards who is just two years younger to Jayasinghe would run in heat eight.
Meanwhile, on the first morning of the competition, Luke Kibet won Kenya's first world marathon gold medal in 20 years demolishing the rest of the field. The 24-year old prison guard won the men's marathon by the biggest margin in the history of the championships when he clocked 2:15.59 to finish 79 seconds ahead of the second placed Mubarak Hassan Shami, another Kenyan now running for Qatar, in searing heat and humidity.
Shami clocked 2:17.18 while Switzerland's European silver medallist Viktor Rothlin finished third in 2:17.25. As expected, it became the slowest marathon in world championship history under gruelling conditions as the temperatures soared to 30 C by 8:00 am to go with 78 percent humidity and 28 runners failed to finish. Kibet stumbled at 28 kilometres but recovered and later said he was confident about winning very early in the race. "This was not the toughest marathon of my career, I felt comfortable despite the hot weather," he said. "I had a small accident at 28 kilometres and after 30 kilometers I realised the pace was slow and started to push. At the 32nd kilometre I started to believe I could win the race."
The much expected sprint dual between Jamaica's world record holder Asafa Powell and American Tyson Gay opened here at man stadium when both eased through their 100 metres heats. Both runners finished their heats in second place taking the first round leisurely. Gay clocked 10.19 behind Japan's Nobuharu Asahara and said that he wanted run slower, but couldn't as the track was super fast. "I tried to run 10.30 but the track wouldn't allow me to do it. It's the fastest track I've ever been on. I just couldn't really run slow -- it was kind of hard!" explained Gay.
However there was a stunning exit for Athens Olympic silver medallist Francis Obikwelu of Portugal who was disqualified for a false start in his heat.