Atapattu packs bags to South Africa
By S.R. Pathiravithana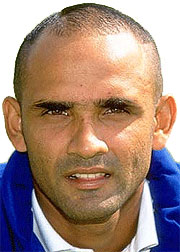 Former Sri Lanka skipper Marvan Atapattu who was hounded into submission by the Lankan selectors and later took the drastic step of severing his contract with Sri Lanka Cricket has chosen to continue his cricket career in South Africa. Earlier Atapattu's name was prominently tagged with the Indian runaway group – the ICL. Now it seems that the stylish batsman has decided otherwise.
A very senior cricket board source confirmed to The Sunday Times that Atapattu had contacted him and said that he intends playing Provincial Cricket in South Africa as a coach cum player. Atapattu, one of the most technically correct batsmen that Sri Lanka has ever produced scored six double centuries in his 88 match Test career with ten other centuries and fifteen half centuries.
In total he scored 5330 runs at an average of 38.90 with a highest score of 249 against Zimbabwe. He also appeared for Sri Lanka in 268 One Day Internationals before he was surprisingly ignored during Sri Lanka's World Cup endeavour in the West Indies. He last played for Sri Lanka against India at Visakhapatnam on February 17, 2007.
After being ignored at the World Cup and the off-shore series against Pakistan in Abu Dhabi, Atapattu was recalled for the recently concluded series against Bangladesh, but, he declined the invitation and opted to stay on in England and turn out for Lashings. Turning out for Lashings which is a roving cricket outfit in the same lines of Derrick Robins' Xl Atapattu scored over a thousand runs this season with a century and several half centuries.