Candles in the dark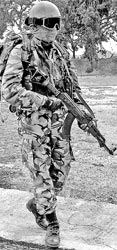 There are many tears,
but we don't know whose,
There's much laughter,
We know it's ours.
They live with the night,
They have never seen the moon.
They give us the light,
to enjoy life.
What is the light?
It is a puzzle to all
When will they sleep,
is the only question on their mind.
This poem is dedicated to our soldiers in the North