CCC project for Maharagama Cancer hospital
Care for Cancer Children (CCC), a Sri Lanka-Australia project to help cancer patients held their annual Charity Ball at The Powerhouse in Albert Park, Melbourne last week to raise AU $1.5 million which is to be utilised for building a transit home for outpatient children and adults at the National Cancer Institute in Maharagama.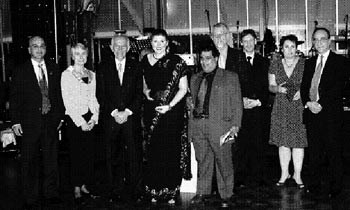 From left to right: Jetha Devapura – CCC founder, Chairman, Mrs. de Kretser, Prof. David de Kretser – Governor of Victoria, Sophie Morell – CCC Ambassador, Minister of Health Nimal Siripala de Silva, Dr. Keith Waters – RCH, Aldo Rolfo – Peter MacCallum Cancer Centre, Belinda James- Interchange Outer East and Prof. Harry Minas – Centre for International Mental Health.
The CCC organisers were able to kick-start their fundraising campaign with over $50,000 being raised on the night through various activities. Project Chairman, Jetha Devapura said, "The CCC House is a critical project to alleviate the overcrowding at Maharagama, and will allow the staff to focus on new and more critical patients."
Several dignitaries attended the Ball, among them Sri Lanka-born Governor of Victoria, Professor David de Kretser and Mrs. de Kretser, Sri Lanka's Minister of Health, Nimal Siripala de Silva, Dr. Keith Waters from the Royal Children's Hospital in Melbourne, who is also a consultant Oncologist for the Maharagama Cancer Hospital and Dr. Greg Wheeler, Oncologist of the Peter MacCallum Cancer Centre in Melbourne.
The CCC House to be built in Maharagama is a 140 bed transit home for outpatient children and adults similar to the Ronald McDonald Houses in Australia which provide a comfortable stay for outpatients during their treatment for cancer.
The CCC house project is estimated to cost in the region of AU $1.5 million so its partners, sponsors and supporters have banded together to push the drive to raise at least half of the required sum (AU $ 750,000) with the balance to be left to fundraisers in Sri Lanka. A time frame for December 2008 has been set for getting the required funding, Devapura said.