He was indeed a giant of our times
K.C. Kamalasabayson
We publish here the eulogy by Attorney General C.R. de Silva PC at the funeral of former Attorney General K.C. Kamala-sabayson PC.
We are all gathered here to pay our final respects to the mortal remains of a shining star of the legal firmament who has been plucked away by the cold hand of death. K.C. Kamalasabayson the former Attorney General of Sri Lanka, affectionately referred to as Saba, received his early education at St. Thomas' College Mount Lavinia, which has produced many illustrious sons of Sri Lanka who have left indelible impressions on the sands of time. Saba is one amongst these illustrious men.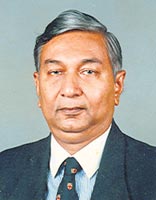 Saba was an heir to a rich and full education, where his alma mater instilled in him a great value system. Some of the values that have impressed me most are his sense of justice, fairplay, integrity and his desire to treat everybody equally, irrespective of race, religion, caste, creed or social status. He always conducted himself from the sturdy platform of right and wrong. He knew no discrimination. Fairplay was his forte and narrow provincialism and ethnic considerations were his sworn enemies. In history, each individual makes his or her unique contribution.
Yet some contributions stand out as monuments, precisely because the individuals responsible do not fear to differ; they do not wilt at the slightest sign of divergence. Saba was such a personality. Saba was a great teacher, great lawyer and equally great administrator and above all, great human being.
As a teacher, he not only taught his students the principles of law, but also instilled in them the high standards that one should adhere to in the legal profession. As a lawyer, he maintained the highest professional standards. Generations of lawyers are grateful to Saba for the contribution that he has made towards the legal profession. He was indeed a giant of our times – indomitable in courage, steadfast in purpose, total in commitment, clear sighted in vision, irreproachable in character and yet simple in manner.
His entire working life as a lawyer was spent at the Attorney General's Department. He was always a source of strength and encouragement to all the officers of this Department. He kept his doors opened to the entire staff of the Department. He empathized with their problems and his wide counsel was always greatly appreciated by anyone who sought his advice. If I may be permitted to strike a personal note, I have known Saba for over 3 ½ decades, an association which has its beginnings from our law student days. I have always found Saba to be a good friend always willing to help a friend in need. I have never heard him utter a harsh word and he always conducted himself with a sense of equanimity. The life of this gentleman Saba could be summed up in the words of the great Bard 'his life was gentle and the elements so mixed in him that nature might stand up and say to the world "this was a man" '. Saba your demise has caused irreparable loss to your beloved and caring wife Ramani, and your devoted daughter Vidya and the rest of the members of your family. This void can never be filled. I must remind Ramani, Vidya and the members of Saba's family that all of us gathered here, share your grief and the cold truth of his loss dawns on us with each passing day.
Saba has lived a fruitful life, doing brilliantly well in his chosen field - the law. All mortals have to one day breathe their last. As Saba would say this is the inevitable reality. He has played a full innings and an excellent one at that. And finally before I conclude I am reminded of the famous words of Omar Khayyam "The moving finger writes and having writ moves on, not all thy piety nor wit can lure it back to cancel half a line, nor all thy tears wash out a word of it". Finally in conclusion, my humble prayer to my great and beloved friend is "May all the angels in heaven sing thee to thy sleep."