Kanchana: A victim of Passara's lonely footpaths?
Police are yet to make a breakthrough in the alleged rape and killing of Kanchana Manohari, an A/Level student, although three police teams are probing the crime. While shocked residents of Hopton estate, in the Passara village say this was the third time a similar crime had occurred in the recent past, police say the many lonely footpaths young students are forced to take to go to school make them easy prey to rape.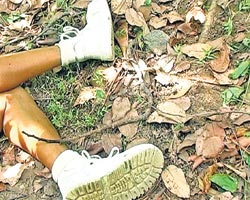 Who is responsible for this tragic end to a young life?
Last month an offender of a similar crime was sentenced to life, while a policeman was indicted for incest.
Kanchana Manohari from the Passara MMV was allegedly raped and killed on her way to sit for her last A/Level paper on August 20. Her parents had informed police when she hadn't returned home that evening but no search operation was launched.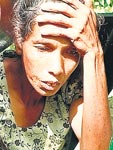 A shocked mother who found her daughter's body
The body of twenty year old Kanchana, the eldest of five children was found the next day in a thicket adjoining the path she takes daily on her route to school, by her mother and sisters who had gone in search of her. Kanchana, who was the head girl in her school, was found with a head injury while the autopsy indicated death was due to shock caused by multiple injuries.
Residents say about 40 students use this lonely path and they are forced to walk 11 kilo metres to get to the bus stop to go to school. Following this recent tragedy, parents have appealed to authorities to at least provide a van for the students to get to the main road.
Badulla Division's Senior Superintendent D.K.S.P.K. Mathurata said they had collected some vital evidence from the scene of the crime.