A mother's tears of sorrow and tale of hope
The mother of death-row Sri Lankan domestic speaks of her reunion with her daughter in a Saudi prison and their upcoming second trip to seek her pardon
"Take me back to Sri Lanka," was Rizana Nafeek's heart-rending plea to her mother when she visited her daughter in a prison in Saudi Arabia. Rizana's mother Nafeek Fareena spoke to The Sunday Times as she awaited a message from the Foreign Ministry to leave for Riyadh for the second time, to fulfil her daughter's wish.
This time, they are hopeful of meeting the parents of the four year-old child for whose death Rizana has been sentenced to death by a Riyadh Court. Nafeek is hopeful they will get a pardon for her daughter and there will soon be a family reunion back home in Mutur. Talking about her last visit to Riyadh, Nafeek said her daughter had declined to discuss the incident but only pleaded to be taken back home.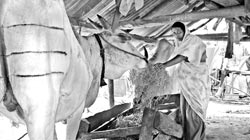 Nafeek Fareena tends to a cow in their humble home in Mutur
"When my husband and I were taken to the prison, Rizana was brought to us with her head covered. As soon as the cloth was removed we took time to recognize her as she had lost so much weight. She broke down as she saw us. It was hard for us to bear the sorrow too ," Ms. Fareena said.
The parents were able to see their daughter as a result of a visit organized by the Foreign ministry last month, but they were unable to meet the dead child's parents."When we started crying the prison officials also cried. They were surprised that she had committed such a crime," Ms. Fareena said.
"We were given permission for a second visit too that lasted for about an hour. When she saw us the second time Rizana said she had never expected to see them again. During the first visit we didn't ask her anything about the incident but during the second visit when we asked her about it she said not to ask anything," she said. "During our stay we met Mrs. Amir a relative of the victim's family. She told us once Rizana's employers returned from holiday she would discuss with them about a pardon. My husband begged her to somehow workout a pardon for Rizana," she said.
Rizana's parents make a meagre earning by cutting fire wood and selling it. Rizana's brother and two sisters who are still schooling do not seem to realize the gravity of the situation. Meanwhile, local organisations have stepped up their campaigns calling for the pardon of Rizana. Lakmawa Diyaniyo of the Patriotic National Movement is one of the organisations campaigning for her release. A petition was also signed by the public island-wide calling for her release.In Kandy the Shramashakthi organisation conducted religious programmes praying for her release.