Kantale sugar factory chairman responds
~ Right to Reply.....!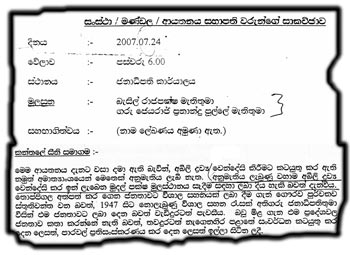 The relevant portion of the minutes of the meeting
Responding to The Sunday Times lead story on Page 1 last week under the headline 'State assets to build SLFP hq.' Kantale Sugar Factory chairman M K A D.S Gunawardene has sent the following response.
Ref. your news report in your paper dated 19th August what I mentioned at the meeting of Chairmen of State institutions on the 24th July at the President's House, is that our factory in Kantale is one that does not bring in revenue and that monies are obtained for the Navodaya program in the East after crediting money to the Treasury from the sale realized via the auction of condemned items belonging to the factory. If there is anything more in the report it is not what I said and may have come in the course of preparing the minutes of the meeting.
Reporters note: The Sunday Times had access to the minutes of the meeting while it also spoke to Mr. Gunawardena who confirmed that the funds raised by auctioning the items condemned would be donated to the fund to build the SLFP headquarters.